| | | |
| --- | --- | --- |
| When is the best time to see auroras? Where is the best place to go? And how do you photograph them? These questions and more are answered in a new book, Northern Lights - a Guide, by Pal Brekke & Fredrik Broms. | | |
SOLAR ACTIVITY SURGES: A sunspot on the sun's eastern limb is crackling with powerful X-class solar flares. AR1748 announced itself during the early hours of May 13th with an X1.7-class eruption (0217 UT), quickly followed by an X2.8-class flare (1609 UT) and an X3.2-class flare (0117 UT on May 14). These are the strongest flares of the year so far, and they signal a significant increase in solar activity. NOAA forecasters estimate a 50% chance of more X-flares during the next 24 hours. Solar flare alerts: text, voice.
All of these flares have produced strong flashes of extreme ultraviolet radiation. Here is the view of the latest eruption, which registered X3.2 on the Richter Scale of Solar Flares, from NASA's Solar Dynamics Observatory: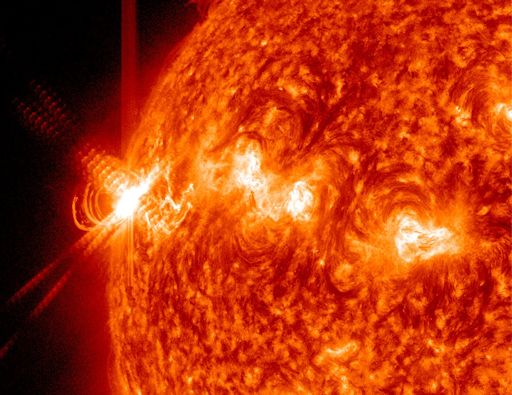 The explosions have also hurled coronal mass ejections (CMEs) into space. Coronagraphs onboard the Solar and Heliospheric Observatory are tracking the clouds: movie. The planet in the CME movie is Mercury. Although the CMEs appear to hit Mercury, they do not. In fact, no planets were in the line of fire. However, the CMEs appear to be on course to hit NASA's Epoxi and Spitzer spacecraft on May 15-16.
Updated May 14th @ 7:30 PDT: When the action began on May 13th, the instigating sunspot was hidden behind the sun's eastern limb, but now solar rotation is bringing the active region into view. The Solar and Heliospheric Observatory captured this view of AR1748 emerging on May 14th: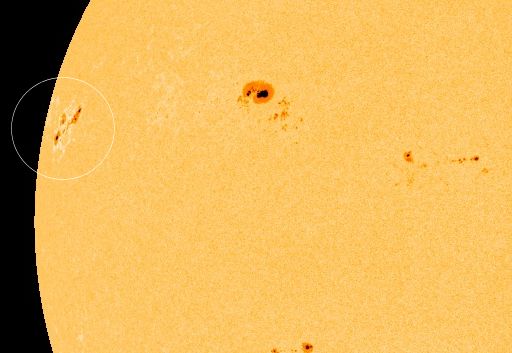 Sunspot AR1478 is not particularly large, but it is complex, with many dark core scattered through its zone of influence. This is a sign of a complicated overlying magnetic field. When tangled lines of magnetic force criss, cross, and reconnect--voila! A flare occurs. NOAA forecasters estimate a 40% chance of more X-flares during the next 24 hours. Solar flare alerts: text, voice.
Realtime Space Weather Photo Gallery
ION WAVES IN THE ATMOSPHERE: Although AR1748 is not directly facing Earth, its strong flares have nevertheless affected our atmosphere. UV and X-radiation hitting the top of the atmosphere ionizes atoms and molecules, creating ion waves over the dayside of the planet. Roberto Battaiola detected these waves on May 13th using a Sudden Ionospheric Disturbance monitor in Milan, Italy: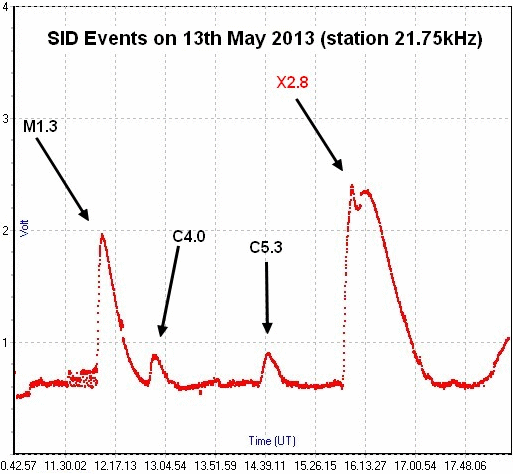 Sudden ionospheric disturbances--"SIDs" for short--make themselves known by the effect they have on low-frequency radio signals. When a SID passes by, the atmosphere overhead becomes an good reflector for radio waves, allowing signals to be received from distant transmitters. Battaiola monitored a faraway 21.75 kHz radio station to monitor the SIDs over his location.
More SIDS are in the offing as NOAA forecasters estimate an 80% chance of M-flares and a 50% chance of X-flares during the next 24 hours. Solar flare alerts: text, voice.
Realtime Solar Eclipse Photo Gallery
---
---
---
Realtime Noctilucent Cloud Photo Gallery
[previous years: 2003, 2004, 2005, 2006, 2007, 2008, 2009, 2011]