The space shuttle is in orbit. We can call you when it's about to fly over your hometown: Spaceweather PHONE.
ELECTRIC ICE: NASA researchers have discovered a strange connection between lightning and ice. Get the full story from Science@NASA.
EXPLODING SUNSPOTS: Last month, astronomer Pavol Rapavy of Rimavska Sobota, Slovakia, was tracking sunspot 905 as it transited the sun. Suddenly, the great spot flew apart: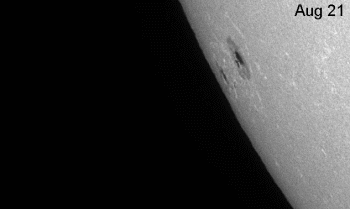 Rapavy's movie shows an object twice as wide as Earth breaking into a dozen-plus moon-sized pieces. The spot didn't fracture like a solid object, however. Sunspots are made of pure magnetism. So what the movie really shows is a disruption of magnetic fields.
On the sun, this sort of thing happens frequently--all the more reason to keep an eye on today's sunspots, 904 and 909.
18 PLANETS: Have you ever heard of the planet Hygea? It's listed in the 1850 Annual of Scientific Discovery along with 17 other planets: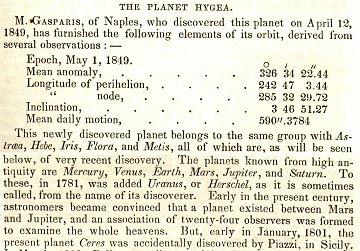 Courtesy Joe Pollock, Appalachian State University. [full text]
In those days, large asteroids such as Hygea, Ceres and Vesta were widely deemed planets. They appeared so in textbooks and scientific journals. Adding asteroids to the other known planets, Mercury, Venus, Earth, Mars, Jupiter, Saturn, Uranus and Neptune, gave a grand total of 18. Imagine the mnemonic: "My Very Educated [insert ten adjectives here] Mother Just Served Us Noodles."
The asteroids were eventually demoted. It was a long, drawn-out affair, marked by decades of disagreement and confusion. (Sound familiar?) By 1900, however, order was restored to the Solar System: the planet count was down to eight.
And then came Pluto...