MULTIPLE FIREBALLS: On Friday, Feb. 13th, around 10:00 pm EST, people in central Kentucky heard loud booms, felt their houses shake, and some saw a fireball streaking through the sky: eye-witness reports. On Sunday, Feb. 15th, around 11 am CST, an even brighter fireball appeared over central Texas in broad daylight. News outlets and even the National Weather Service are attributing these events to re-entering debris from the recent satellite collision between Iridium 33 and Kosmos 2251. Skepticism is warranted. Evidence reported so far does not rule out a meteoritic origin; these fireballs could be a result of garden-variety space rocks hitting Earth, as they do almost every day. Until, e.g., US Strategic Command issues a statement linking the fireballs to radar-tracked satellite debris, it's best to keep an open mind.
Readers, if you witnessed or photographed either of these fireballs, please submit a report.
HAPPY BIRTHDAY, GALILEO: On February 15, 1564, Galileo Galilei was born in Pisa, Italy. Galileo is an important person in the history of space weather. Contrary to popular belief, he didn't discover sunspots, but he was one of the first to observe them using a telescope.
In Galileo's day, many people believed sunspots were satellites of the sun. Galileo proved otherwise. By drawing sunspots every day, he discovered that the sun spins and that sunspots are located on (or very near) the sun's surface. Galileo thought sunspots might be clouds.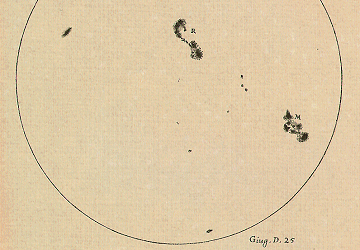 Sunspots sketched by Galileo on June 25, 1613: more.
Now we know what sunspots really are: huge islands of magnetism. Magnetic fields generated by the sun's inner dynamo poke through the sun's surface, forming dark areas typically a few times wider than Earth. The behemoths Galileo sketched in 1613 were as wide as Jupiter.
If Galileo were alive today, the 445-year-old scientist would make very little progress on the problem of sunspots. This is a year of deep solar minimum. So far, 85% of the days in 2009 have brought blank suns--no sunspots, no flares, no great magnetic storms, in short, no way to celebrate Galileo's birthday! To the sunspots we wish many happy returns.
VALENTINE SKY: "The Northern Lights were very excited on Valentine's Day," reports Sylvain Serre of Salluit, Nunavik, Canada. "They were dancing in the sky with a lot of colors." He pointed his camera (a Canon 30D) straight up and took this picture: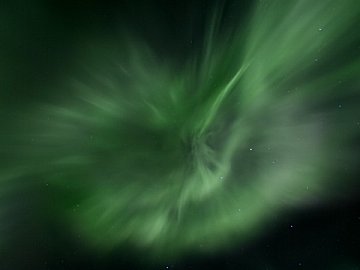 "Venus, the Goddess of Love herself, also witnessed the beautiful dance," he adds.
The cause of the display was a solar wind stream that hit Earth late on Feb. 13th and sparked geomagnetic disturbances around the Arctic Circle. The solar wind continues to blow; high-latitude sky watchers should remain alert for auroras.
February 2009 Aurora Gallery
[Previous Februaries: 2008, 2007, 2006, 2004, 2003, 2002]
---
Comet Lulin Photo Gallery
[Comet Hunter Telescope] [NASA's story] [ephemeris]
---