| | | |
| --- | --- | --- |
| NEW AND IMPROVED: Turn your iPhone or iPod Touch into a field-tested global satellite tracker. The Satellite Flybys app now works in all countries. | | |
COMET FRAGMENTS: On March 11th, 12th and 13th no fewer than four comets plunged into the sun. Can you find all four in this movie (22 MB) from the Solar and Heliospheric Observatory? Hint: The last comet is a double. These sungrazing comets are believed to be fragments of a giant comet that broke apart more than 2000 years ago.
AURORA WATCH: A solar wind stream is heading for Earth, and so is a coronal mass ejection (CME). Together, they add up to a geomagnetic storm alert for March 17th and 18th. The impact of the solar wind plus CME will brighten Arctic skies already alive with Northern Lights: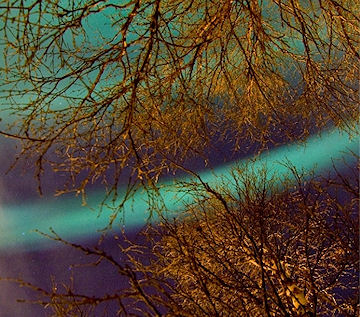 "We are getting some good activity here in Tromsø, Norway," reports Thomas Hagen. He took the picture on March 16th using a Canon 40D set at ISO 800 for 5 seconds. High-latitude sky watchers should take note of those camera settings. NOAA forecasters estimate a 30% chance of geomagnetic activity and a 5% chance of severe geomagnetic storms during the next 24 hours. Photo-ops are in the offing!
March Northern Lights Gallery
[previous Marches: 2009, 2008, 2007, 2006, 2005, 2004, 2003]
SOLAR ACTIVITY: Readers, if you have a solar telescope, scan your optics around the circumference of the sun. "A lovely prominence is visible on the sun's western limb today," reports Pete Lawrence who send this picture from his backyard observatory in Selsey UK: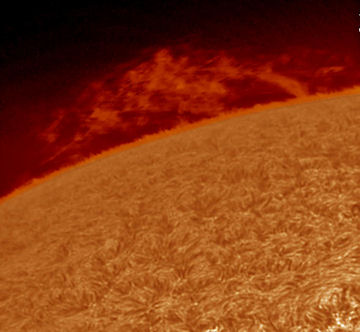 "The giant arch of magnetized plasma was filled with gorgeously delicate detail," he says.
In addition to the prominence, big sunspot 1054 is putting on a good show near disk center. The active region has a "beta-gamma" magnetic field that harbors energy for C- and M-class solar flares. Monitoring is encouraged.
more images: from John Minnerath of Crowheart, Wyoming; from Alan Friedman of Buffalo, NY; from Ron Cottrell of Oro Valley, Arizona; from Jérôme Grenier of Paris, France; from Peter Desypris of Athens, Greece; from Pavol Rapavy of Observatory Rimavska Sobota, Slovakia; from Etienne Lecoq of Mesnil-Panneville, Normandy, France; from Fulvio Mete of Rome, Italy; from Rogerio Marcon of Campinas - Brazil; from Jörgen Blom of Stockholm, Sweden; from Davide Cirioni of Cilavegna, Pavia, Italy; from Laurent Corp of Rodez, France;
---