What's the name of that star? Where's Saturn? Get the answers from mySKY--a fun new astronomy helper from Meade.
RADIO-ACTIVE SUNSPOT: "After a long quiet spell, the sun is making noise again," reports Thomas Ashcraft of New Mexico. Yesterday, using a 21 MHz ham rig, he recorded the roaring sounds of a Type III solar radio burst: listen.
A broadband radio telescope at the University of Florida Radio Observatory detected the same burst. The plot, below, shows how energy was spread across the shortwave spectrum: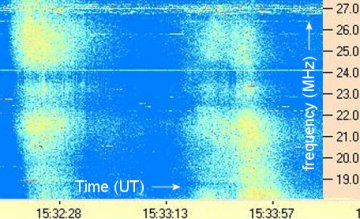 David Thomas of Lynchburg, Virginia, recorded yet another outburst on May 15th using his RadioJove amateur radio telescope: data.
The source of all this activity is young sunspot 956. The sunspot emerged near the sun's eastern limb less than 48 hours ago and has been growing at breakneck speed every since. In addition to the radio bursts, the sunspot also produced a beautiful coronal mass ejection this morning: movie.
Ham radio operators may wish to point their Yagis toward the sun. Sunspot 956 is crackling with small solar flares and may produce more radio bursting in the days ahead. Stay tuned!
more images: from Pavol Rapavy of Rimavska Sobota,Slovakia; from Pete Lawrence of Selsey, West Sussex, UK; from Cai-Uso Wohler of Bispingen, Germany.
GREENSBURG, KANSAS: Photographer Mike Theiss is a frequent contributor of sky photos to spaceweather.com. A few days ago, he turned his camera from the heavens to Earth during a sobering visit to Greensburg, Kansas, a small town almost completely destroyed by a monster tornado on May 4th.
"The power of the wind from this EF-5 tornado was evident," says Theiss. "I documented a fork stuck in a tree, a Kansas license plate ripped off a car and stuck in a tree, millions of splintered pieces of wood and much more. There was amazing evidence of winds over 200 mph everywhere." (continued below)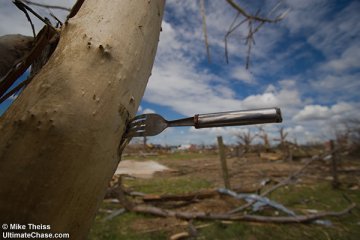 "Every single vehicle I saw was peppered with rocks, boards and other debris," he continues. "The only safe place would have been underground, but I think that might not have been very safe either because I saw basements that were filled with tons of debris from the house collapsing in on itself."
"My experience at ground zero was depressing yet uplifting. Among all the destruction, the only reaction I witnessed among residents was positive excitement about how great the city will be once it's rebuilt. The entire community pulled together and began cleanup immediately. One idea being tossed around is to 'go green'--i.e., to use wind, solar energy and other resources at hand to power the reconstructed city. This would make Greensburg the first 100% green city in the USA. What an amazing idea!"
Greensburg Photo Gallery
[donate to the Green for Greensburg Fund]