WIDE AWAKE IN THE SEA OF TRANQUILLITY: Why couldn't Neil Armstrong fall asleep on the Moon? The answer is revealed in today's suspenseful story from Science@NASA.
NLCs INVADE THE USA: On July 15th, a wave of intense noctilucent clouds (NLCs) descended over the continental United States. "They were so bright, I would have assumed the dawn was imminent, only it was an hour and a half before sunrise!" says Eve Wills, who sends this picture from Dillon, Montana: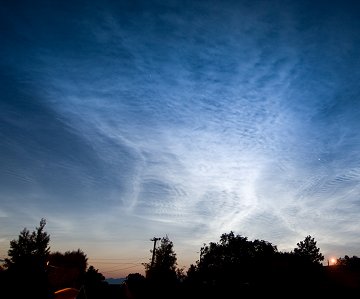 "It was a brilliant display."
Similar reports have poured in from Colorado, Oregon, Washington, Nebraska, Idaho, the Dakotas and northern California. These sightings are significant because they come from places so far south. When noctilucent clouds first appeared in the late 19th century, they were confined to latitudes above 50o N (usually far above). The latitude of last night's Colorado sighting is only 39° N. No one knows why NLCs are expanding their range; it's one of many unanswered questions about the mysterious clouds.
Sky watchers at all latitudes should be alert for NLCs. Observing tips may be found in the photo gallery:
UPDATED: 2009 Noctilucent Photo Gallery
[previous years: 2008, 2007, 2006, 2005, 2004, 2003]
SPACE SHUTTLE ENDEAVOUR: It's official. Six times is the charm. Space shuttle Endeavour roared into space from the Kennedy Space Center on July 15th. It was the shuttle's sixth attempt to launch since mid-June, earlier liftoffs having been foiled by hydrogen leaks and bad weather. The shuttle is on a mission to deliver a new crew member and a "space porch" to the International Space Station (ISS).
About 20 minutes after launch, the shuttle and its external fuel tank streaked over Ireland: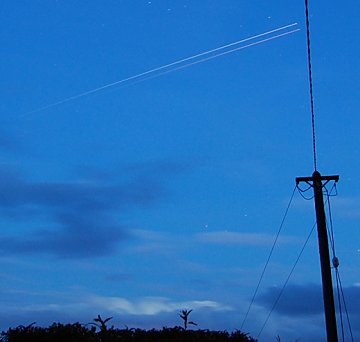 "It was the most memorable thing I have ever seen!" says photographer James Adamson of County Mayo. "The two bright star-like objects were almost as bright as the ISS--one bright white and the other deep orange. I took the picture using my Nikon D40."
Endeavour is now in orbit heading for a Friday rendezvous with the ISS. On July 17th and 18th, the two spaceships will appear side by side in the night sky in an "amazing" arrangement akin to the shuttle-fuel tank combo Adamson witnessed. Stay tuned to the Simple Satellite Tracker for predictions.
more images: from Justin Starnes at the Kennedy Space Center, FL
---