Planets. Comets. Auroras. Don't miss them! Sign up for Spaceweather PHONE.
AURORA WATCH: A solar wind stream flowing from a coronal hole on the sun is expected to hit Earth today. This could cause a geomagnetic storm and auroras over Alaska and Canada.
NEWTON'S FLAME: A giant flame-shaped prominence jumped up over the edge of the sun yesterday. Jack Newton of Osoyoos, British Columbia, took its picture: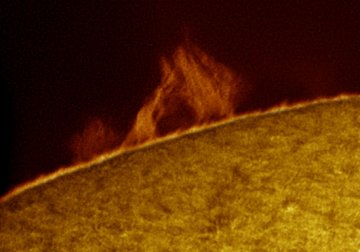 See the gap at the bottom of the flame? Our entire planet could fit through it with room to spare. No wonder prominences are so easy to see; they're huge. "Newton's flame" is still flickering today. If you have a solar telescope, take a look.
Today's images: from Greg Piepol of Rockville, Maryland; from John Stetson of Falmouth, Maine; from Adrian Guzman of San Jose, California;
Note: Prominences may look like flames, but they are not fire. The flame-like shapes are formed by magnetic force fields holding clouds of hydrogen above the limb of the sun. Combustion has nothing to do with it.
POLLEN CORONAS: It begins with a sneeze. Pollen floating through the air tickles your nose, and your body responds by expelling the allergen. Gesundheit!
That's German for "look at the Sun." Not really, but look anyway. The same pollen that makes you sneeze can also make beautiful coronas around the Sun, like this one photographed by Peggy Haggadone and Chris Byczek in Lewiston, Michigan: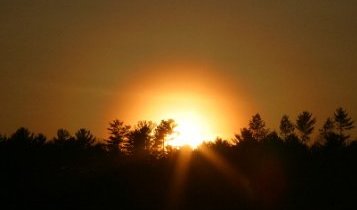 Specks of pollen are very small, and when they float through the air they diffract sunlight, forming the softly-colored rings of light in Haggadone's photo. Tiny crystals of ice or droplets of water in the air can do the same thing--but unlike pollen they do not cause sternutation.
more images: from Peter-Paul Hattinga Verschure of Deventer, The Netherlands; from Helmut Groell of Moers, Germany; from Barb Robertson overlooking the Ottawa River, Ontario, Canada;