Where's Saturn? Is that a UFO--or the ISS? What's the name of that star? Get the answers from mySKY--a fun new astronomy helper from Meade.

AURORA WATCH: Sky watchers, be alert for auroras. Earth is entering a solar wind stream and this is causing high-latitude geomagnetic storms.

CLOSE ENCOUNTER: Ready your telescopes! On Tuesday evening, Dec. 18th, Mars makes its closest approach to Earth until the year 2016. At a distance of only 55 million miles, Mars outshines every star in the night sky (it is slightly brighter than Sirius) and draws attention to itself with its distinctive red color. Plus, it looks great through a backyard telescope: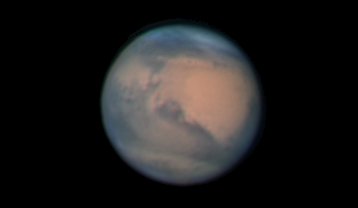 Peter Garbett of Sharnbrook, UK, took this picture a few nights ago using his 14-inch Celestron. "It was so cold outside my finger froze to the telescope tube," he says, "but it was worth it!"
Even colder than England is the Martian north pole. Temperature: -230 F. The blue polar clouds in Garbett's photo are a result of this low temperature; they are filled with tiny crystals of water and carbon dioxide ice that scatter blue wavelengths of sunlight. This "North Polar Hood" is one of the most striking aspects of Mars in the eyepiece. Ready to look? Train your optics on the bright red "star" rising in the east after sunset: sky map.
more images: from Dan Petersen of Racine, Wisconsin; from Sean Walker of Chester, New Hampshire; from Wah! of Hung Hom, Hong Kong; from Richard Smedley of Broken Arrow, Oklahoma; from Sadegh Ghomizadeh of Tehran, Iran; from Geoff Chester of Alexandria, Virginia.
GREAT GEMINIDS: The reports are in and the verdict is ... the Geminids were a blast after all. The shower peaked on Dec. 14th and 15th with as many as 140 meteors per hour. Many were fireballs. This Geminid near Warsaw, Poland, lit up the night like a full Moon: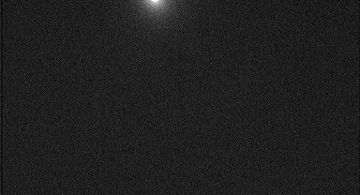 Click to view the complete 2.8 MB movie
"The meteoroid fragmented into 4 pieces and observers heard a sonic boom similar to distant thunder," says Jarosław Dygos of the Polish Fireball Network whose TV camera recorded the explosion. "Look at the halo around the fireball," he points out. That was caused by meteor-light passing through ice crystals in the clouds--"beautiful!"
Just as the shower was dying down on Dec. 16th, a strange sound echoed from the loudspeaker of Thomas Ashcraft's radio telescope in New Mexico. "A bright fireball was flying overhead," he says. The sound was a distant TV transmitter reflected from the fireball's ionized trail. He combined footage of the fireball with a recording of the echo to produce this movie. Don't forget to turn up the volume.
2007 Geminid Meteor Gallery
[World Map of Geminid Sightings]
[IMO recap] [meteor alerts] [Night Sky Cameras]