SPACECRAFT BUZZES MARS: NASA's Dawn spacecraft had a close encounter with Mars last night, flying just 341 miles above the Red Planet's surface. The gravity-assist maneuver propelled Dawn toward the asteroid belt where it will orbit and explore Vesta and Ceres beginning in 2011. Mission managers say the Mars flyby images will be beamed back to Earth on or about Feb. 24th.
COMET LULIN UPDATE: Last week, observers saw little of Comet Lulin because it was lost in the glare of the passing Moon. The glare is subsiding now and Lulin is back--better than ever. Observers say it is visible to the naked-eye (magnitude +5.6) as a faint gassy patch in the constellation Virgo before dawn. Backyard telescopes reveal a full-fledged comet, vivid green, that moves as you watch it. On Feb 17th, Joe Gafford of Deer Trail, Colorado, caught a solar wind gust tearing away part of Comet Lulin's tail: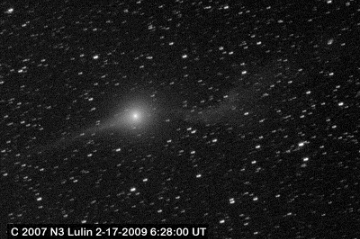 The view will improve in the nights ahead. Comet Lulin is approaching Earth for a 38-million-mile close encounter on Feb. 24th. At that time, the comet could shine two or three times brighter than it does now, and photographers will record it using cameras alone--no telescope required. Browse the gallery for a hint of things to come:
UPDATED: Comet Lulin Photo Gallery
[Comet Hunter Telescope] [Sky maps: Feb. 18, 19, 20]
SATELLITE DEBRIS: More than a week has passed since the Feb. 10th collision of Iridium 33 and Kosmos 2251 over northern Siberia, and the orbits of some of the fragments have now been measured by US Strategic Command. Orbital elements are available for 8 pieces of debris from Iridium 33 and 18 pieces from Kosmos 2251. Satellite observer Daniel Deak has plotted those orbits on a 3D map of Earth for readers of Spaceweather.com. Click on the image to view the distribution of Iridium debris on Feb. 18th: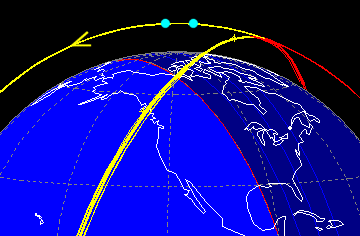 A similar map highlights the Kosmos debris, and a polar view is available, too.
In the maps, hollow circles denote primary fragments still being tracked with the same catalogue number as the original satellite. "We can say it is what remains of the satellite after the collision," explains Deak. Solid circles denote lesser fragments; they are scattered almost all the way around Earth.
A comparison of Kosmos vs. Iridium maps shows that Kosmos debris is scattered more widely than Iridium debris in orbital phase, eccentricity and inclination. For some reason, Kosmos fragments seem to have been ejected from the crash with a greater velocity than Iridium counterparts.
This is just the beginning. More fragments, perhaps hundreds of them, will be catalogued in the days and weeks ahead. As they are added to the map, new information about the crash and its aftermath will naturally emerge. Stay tuned!
---
February 2009 Aurora Gallery
[Previous Februaries: 2008, 2007, 2006, 2004, 2003, 2002]
---