| | | |
| --- | --- | --- |
| NEW AND IMPROVED: Turn your iPhone or iPod Touch into a field-tested global satellite tracker. The Satellite Flybys app now works in all countries. | | |
DOUBLE FLYBYS: Space shuttle Discovery has undocked from the International Space Station in advance of a Monday morning landing at the Kennedy Space Center. Sky watchers should be alert for double flybys as the two spaceships circle Earth together. Check the Simple Satellite Tracker for viewing opportunities or, if you have an iPhone, download the app.
double flyby images: from Robert Hoetink of Enschede, The Netherlands; from Sietse Dijkstra of Lattrop, The Netherlands.
RARE SHUTTLE RE-ENTRY: On Monday morning, April 19th, space shuttle Discovery will make a rare "descending node" overflight of the continental United States en route to landing in Florida. Many towns and cities in the country's heartland are near the ground track: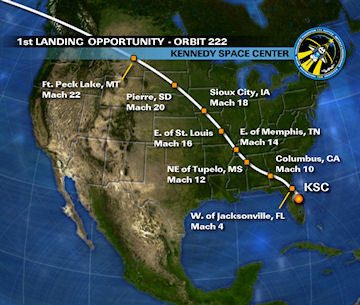 UPDATE! How to predict sighting
opportunities for your location
Landing is scheduled for 8:48 am EDT, and it takes the shuttle about 35 minutes to traverse the path shown above. Observers in the northwestern USA will see the shuttle shortly after 5 am PDT blazing like a meteoritic fireball through the dawn sky. As Discovery makes its way east, it will enter daylight and fade into the bright blue background. If you can't see the shuttle, however, you might be able to hear it. The shuttle produces a sonic double-boom that reaches the ground about a minute and a half after passing overhead.
Check nasa.gov for more maps. A forecast of cloud cover along the ground track is also available.
previous reentry images: from Alan Dyer of near Gleichen, Alberta, Canada
VOLCANIC LIGHTNING: It is well known that volcanic eruptions produce strong lightning. Less well known is why? Ordinary lightning in thunderstorms is not fully understood; volcanic lightning is even more of a mystery.
To investigate, a team of researchers from New Mexico Tech has traveled to Iceland to monitor the Eyjafjallajokull volcano--and they have found it crackling with electricity: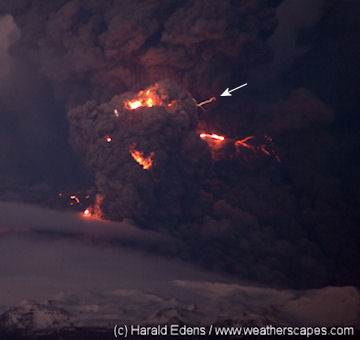 "On the evening of April 16th, there were some small eruptions producing ash clouds up to about 6-7 km, with lightning," says photographer Harald Edens. "The sky was nice and clear, so I was able to photograph the bolts from the town of Hvolsvollur using my Nikon D700 and a 80-200/2.8 lens."
Photography is one way to monitor volcanic lightning, but the technique has limits: Ash clouds are able to hide the flashes; lightning is not always visible in daylight; glowing lava competes for attention; and so on. Radio receivers can do a better job. Lightning emits impulsive radio bursts which can be measured and counted, day or night, even through clouds of ash. "We are deploying a six-station lightning mapping array around the Eyjafjallajokull volcano," says Edens. Their analysis of the radio "crackles" could reveal much about the inner workings of volcanic lightning.
---
April Northern Lights Gallery
[previous Aprils: 2009, 2008, 2007, 2006, 2005, 2004, 2003, 2002]