| | | |
| --- | --- | --- |
| Thirty-five new items have just been added to our Meteorite Jewelry collection. Browse the Space Weather Store for something out of this world. | | |
UNUSUAL 3D METEOR PHOTO-OP: This weekend, NASA scientists, amateur astronomers, and an astronaut on board the International Space Station will attempt the first-ever 3D photography of meteors from Earth and space. The rare photo-op occurs during the peak of the Lyrid meteor shower. Get the full story from Science@NASA.
ION WAVES IN EARTH'S ATMOSPHERE: Today, a volley of C-class solar flares sent waves of ionization rippling through the atmosphere high over Europe. Dave Gradwell of Birr, Ireland, detected the disturbances using a VLF radio monitoring system: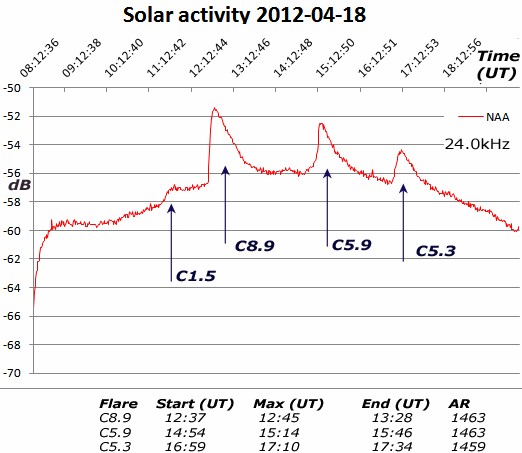 The source of the flares is a sunspot in the sun's southern hemisphere (tentatively numbered AR1463)--one of several active regions popping up around the solar disk. With sunspot numbers on the rise, more flares and ion waves are likely in the days ahead. Stay tuned. Solar flare alerts: text, voice.
GROWING SUNSPOT: What a difference a day makes. On April 16th, sunspot AR1460 did not exist. Twenty-four hours later it was twice as big as the planet Earth. This April 17th movie from NASA's Solar Dynamics Observatory shows sunspot genesis in action: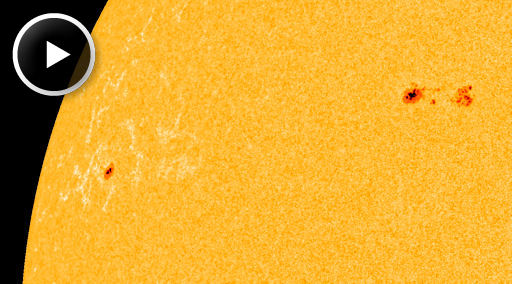 The sunspot's magnetic field is still too simple for strong flares, but if the expansion continues apace, instabilities could develop that lead to explosions. Readers with solar telescopes should keep an eye on AR1460.
SPECTACULAR EXPLOSION: Magnetic fields on the sun's northeastern limb erupted around 17:45 UT on April 16th, producing one of the most visually-spectacular explosions in years. NASA's Solar Dynamics Observatory (SDO) recorded the blast at extreme ultraviolet wavelengths: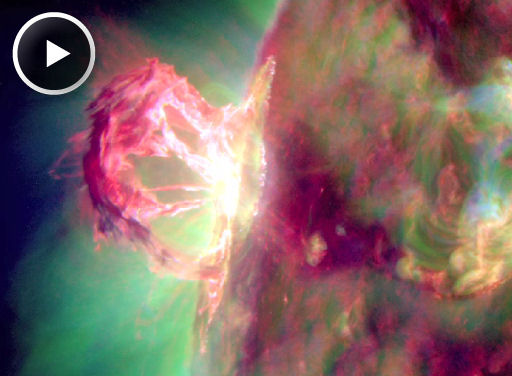 .
The explosion, which registered M1.7 on the Richter Scale of solar flares, was not Earth-directed, but it did hurl a CME into space. Analysts at the Goddard Space Weather Lab have analyzed the trajectory of the cloud and found that it will hit NASA's STEREO-B spacecraft, the Spitzer space telescope, and the rover Curiosity en route to Mars. Planets Venus and Mars could also receive a glancing blow.
Using data from SDO, Steele Hill of NASA's Goddard Space Flight Center assembled a must-see movie of the event. It shows the explosion unfolding at 304Å, a wavelength which traces plasma with a temperature around 80,000 K.
Coverage of the blast was not limited to space telescopes. Amateur astronomers saw it, too. Jim Lafferty sends this picture from his backyard observatory in Redlands, California: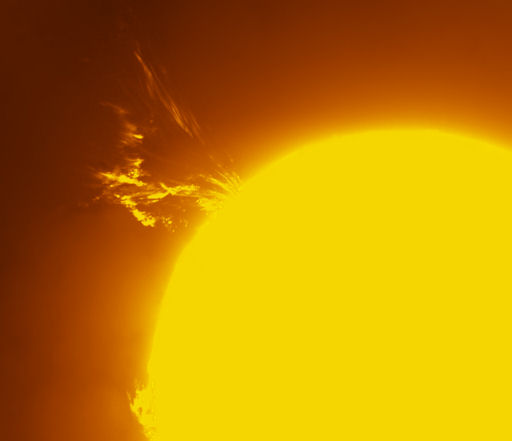 "Yesterday's prominence on the sun's eastern limb was was one of the largest in years---short lived, it was mostly gone in a few hours," says Lafferty. "It was a wonderful sight in the eyepiece and in the camera!"
more images: from Vahan Yeterian of Lompoc California; from John Minnerath of Crowheart, Wyoming; from John Stetson of Falmouth, Maine; from Thomas Ashcraft of New Mexico;