| | | |
| --- | --- | --- |
| ANDROID FLYBYS: Our field-tested satellite tracker is now available for Android phones. Features: Global predictions and flyby alarms! Learn more. | | |
PUZZLING COLLAPSE OF THE THERMOSPHERE: Researchers are puzzling over a sharper-than-expected collapse of Earth's upper atmosphere during the deep solar minimum of 2008-09. "Something is going on that we do not understand," says John Emmert of the Naval Research Lab, lead author of a paper announcing the finding. Get the full story from Science@NASA.
SOLAR FLARE: Sunspot 1087 erupted on July 17th (1800 UT) producing a long-duration C2-class solar flare. Click on the arrow to view a 2.5 hour movie from the Solar Dynamics Observatory: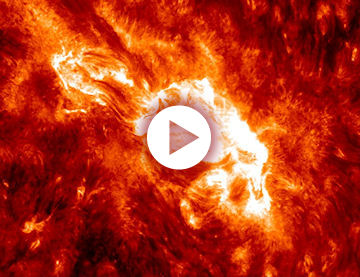 The leisurely but powerful eruption hurled a faint coronal mass ejection (CME) into space. Minor geomagnetic storms are possible on or about July 20th when the cloud reaches Earth. Arctic sky watchers won't likely see auroras because of the midnight sun; Antarctic sky watchers, on the other hand, should be alert for Southern Lights.
more images: from Michael Buxton of Ocean Beach, California; from Alan Friedman of Buffalo, New York; from Wouter Verhesen of Sittard, The Netherlands; from K. Snyder and J. Stetson of South Portland, Maine; from Fabio of Imperia, Liguria, Italy
VENUS AT VENUS POINT: On July 11th, Canadian astronomer Alan Dyer was in Tahiti to witness a total eclipse of the sun. If only that cloud hadn't spoiled the moment of totality...! He didn't leave the South Pacific empty-handed, however. "On the evening of the eclipse," he says, "I was able to photograph Venus from historic Venus Point."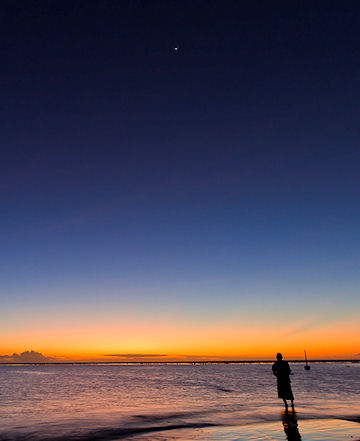 "This is where Capt. James Cook made his famous observations of the transit of Venus in 1769," explains Dyer. "Cook named the site 'Venus Point' and it became the mooring point for other expeditions that followed, such as the infamous Bounty voyage. What a beautiful place to watch the sky."
Apparently, missing an eclipse isn't so bad ... when you miss it in the South Pacific. Browse the gallery to see the shots that didn't get away.
Solar Eclipse Photo Gallery
[NASA: South Pacific Eclipse] [animated map] [details]