| | | |
| --- | --- | --- |
| When is the best time to see auroras? Where is the best place to go? And how do you photograph them? These questions and more are answered in a new book, Northern Lights - a Guide, by Pal Brekke & Fredrik Broms. | | |
NEW YORK BLACKOUT: On Thursday morning, March 20th, at 2:06 a.m. EDT, main belt asteroid 163 Erigone will eclipse the bright star Regulus over the New York metropolitan area. Weather permitting, observers can see the star wink out of sight for as much as 14 seconds. This is the first time in recorded history that an asteroid blacks out a naked-eye star in view of such a heavily populated area. Get the full story from Sky and Telescope.
SOLAR 'SUPERSTORM' NARROWLY MISSES EARTH: The heliophysics communitty is buzzing today in response to an article in Nature Communications, which describes an intense solar storm that narrowly missed Earth almost two years ago. On July 23, 2012, a CME rocketed away from the sun at 2000 km/s, almost four times faster than a typical eruption. The storm tore through Earth orbit, but fortunately Earth wasn't there. Instead it hit the STEREO-A spacecraft, which experienced the most intense solar proton storm since 1976. Researchers have been analyzing the data ever since, and they have concluded that the storm was akin to the Carrington Event of 1859. Scroll past this movie of the CME to learn more: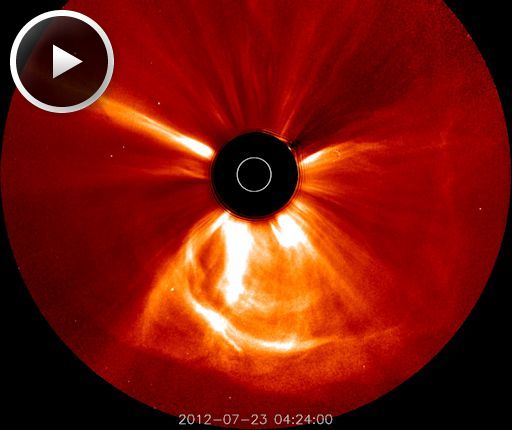 "Had it hit Earth, it probably would have been like the big one in 1859," says Janet Luhmann of UC Berkeley, a co-author of the paper. "The effect today [on] our modern technologies would have been tremendous."
The Carrington Event was a series of powerful CMEs that hit Earth head-on, sparking Northern Lights as far south as Tahiti. Intense geomagnetic storms caused global telegraph lines to spark, setting fire to some telegraph offices and disabling the 'Victorian Internet." A similar storm today would have a catastrophic effect on modern power grids and telecommunication networks. According to a study by the National Academy of Sciences, the total economic impact could exceed $2 trillion or 20 times greater than the costs of a Hurricane Katrina. Multi-ton transformers fried by such a storm could take years to repair.
The paper in Nature Communications describes what gave the July 2012 storm Carrington-like potency. For one thing, the CME was actually two CMEs separated by only 10 to 15 minutes. Plus the CMEs traveled through a region of space that had been cleared out by another CME four days earlier. As a result, they were not decelerated as much as usual by their transit through the interplanetary medium.
The storm clouds crossed Earth's orbit in a place where Earth itself would be about 1 week later, so it was a relatively narrow escape. The whole episode highlights the perils of space weather. Many observers have noted that the current solar cycle is weak, perhaps the weakest in 100 years. Now we see that even a weak solar cycle can produce a very strong storm. Earth is not safe from these kind of events, so it's time to be prepared.
The original research reported here may be found in Nature Communications: "Observations of an extreme storm in interplanetary space caused by successive coronal mass ejections" by Ying D. Liu et al., published on March, 18, 2014.
MAGNETIC FILAMENTS: The biggest structures on the sun today are not sunspots. Dwarfing all of the ordinary active regions, a pair of dark magnetic filaments are stretching across the almost-entire circumference of the sun's southern hemisphere. NASA's Solar Dynamics Observatory took this picture mid-day on March 19th: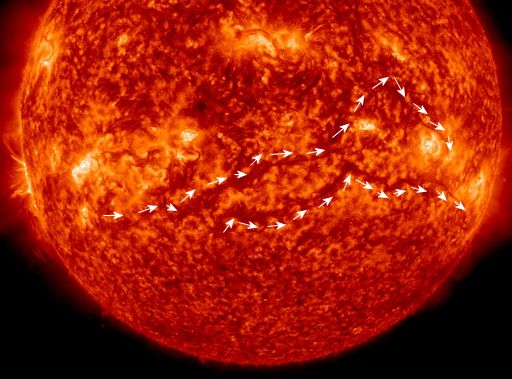 Containing masses of relatively cool plasma held suspended above the solar surface by magnetic forces, the sinuous structures are each more than 600,000 km long. If you put one end on Earth, the other would stretch far beyond the orbit of the Moon. Their dimensions make them easy targets for backyard solar telescopes.
Sometimes, magetic filaments such as these become unstable and collapse. This can lead to a Hyder flare--a type of explosion that does not require sunspots. Hyder flares this week would likely be Earth directed as the filaments are both facing our planet. Solar flare alerts: text, voice
Realtime Space Weather Photo Gallery
---
---
---
Every night, a network of NASA all-sky cameras scans the skies above the United States for meteoritic fireballs. Automated software maintained by NASA's Meteoroid Environment Office calculates their orbits, velocity, penetration depth in Earth's atmosphere and many other characteristics. Daily results are presented here on Spaceweather.com.
On Mar. 17, 2014, the network reported 5 fireballs.
(5 sporadics)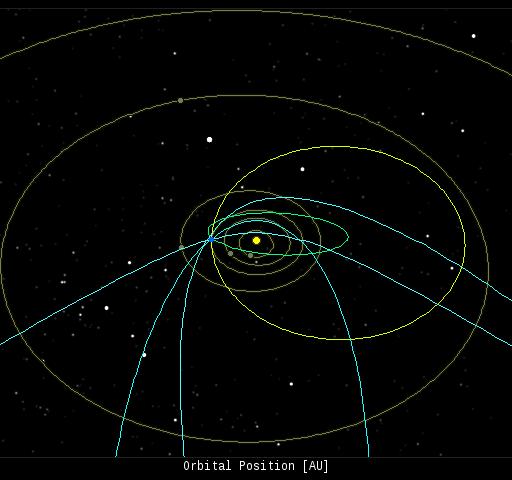 In this diagram of the inner solar system, all of the fireball orbits intersect at a single point--Earth. The orbits are color-coded by velocity, from slow (red) to fast (blue). [Larger image] [movies]

Potentially Hazardous Asteroids (
PHAs
) are space rocks larger than approximately 100m that can come closer to Earth than 0.05 AU. None of the known PHAs is on a collision course with our planet, although astronomers are finding
new ones
all the time.
On March 19, 2014 there were potentially hazardous asteroids.
Notes: LD means "Lunar Distance." 1 LD = 384,401 km, the distance between Earth and the Moon. 1 LD also equals 0.00256 AU. MAG is the visual magnitude of the asteroid on the date of closest approach.
| | |
| --- | --- |
| | The official U.S. government space weather bureau |
| | |
| --- | --- |
| | The first place to look for information about sundogs, pillars, rainbows and related phenomena. |
| | |
| --- | --- |
| | Researchers call it a "Hubble for the sun." SDO is the most advanced solar observatory ever. |
| | |
| --- | --- |
| | 3D views of the sun from NASA's Solar and Terrestrial Relations Observatory |
| | |
| --- | --- |
| | Realtime and archival images of the Sun from SOHO. |
| | |
| --- | --- |
| | from the NOAA Space Environment Center |
| | |
| --- | --- |
| | the underlying science of space weather |