| | | |
| --- | --- | --- |
| FLYBY ALERT! Space shuttle Discovery launches on May 31st. Get your flyby alerts from Space Weather PHONE | | |
FLOWER MOON: There's a full moon tonight and according to folklore it is the "Flower Moon," named after springtime flowers that bloom in the month of May. Gardeners, watch carefully and you could witness a beautiful transformation when the light of the Flower Moon strikes the petals of the Moon Flower. This video shows what to expect.

ISS MARATHON: The 2008 "ISS Marathon" gets underway this week when the International Space Station spends three days (May 21-23) in almost-constant sunlight. Sky watchers in Europe and North America can see the bright spaceship gliding overhead two to four times each night. Please try our new and improved Simple Satellite Tracker to find out when to look.
The station is not only bright and easy to see with the naked eye, but also it makes a fine target for backyard telescopes: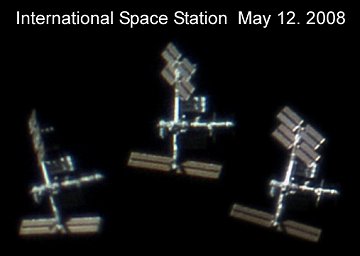 Click to the view the 0.9 MB movie
"I took these pictures during the early morning hours of May 12th using a 5-inch refractor." says amateur astronomer Dirk Ewers of Hofgeismar, Germany. For five minutes, he tracked the ISS across the sky and his movie of the entire 75o transit is a must see.
3D BONUS: Grab your 3D glasses. Spaceweather reader Sylvain Weiller of France has combined two frames of Dirk Ewer's movie to create a stereo view of the space station. If you don't have 3D glasses, try the cross-eyed version instead.
SOLAR CONJUNCTION: There's a nice sky show underway that would surely make news except for one thing: looking at it hurts! Venus and the Pleiades star cluster are converging on the Sun. (continued below)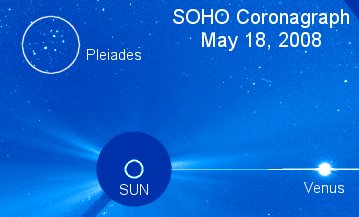 The line through Venus is an artifact of digitally imaging the intensely-bright planet.
Humans eyes can't see the conjunction because of the sun's painful glare. The Solar and Heliospheric Observatory (SOHO) has no such trouble; a coronagraph onboard the spacecraft blocks bright sunlight to reveal stars and planets on the verge of the sun itself. On May 22-23 the Sun-Pleiades-Venus triangle will shrink in width to only 5o. Join SOHO for a ringside seat.
Today's solar images: from Cai-Uso Wohler of Bispingen, Germany; from Stephen Ames of Hodgenville, Kentucky; from Malcolm Park of London, England, UK; from Mike Strieber of Las Vegas, Nevada; from C. Miller, E. Signorelli and J. Stetson of South Portland, Maine; from Didier Favre of Brétigny sur Orge, France;
---
April 2008 Aurora Gallery
[Aurora Alerts] [Night-sky Cameras]