| | | |
| --- | --- | --- |
| It's waiting for you: The most successful Aurora Photo Tour on Earth! 100% success rate 4 years in a row and winner of the TripAdvisor Certificate of Excellence Award. Join LapplandMedia's aurora tours in Abisko, Swedish Lapland! | | |
CHANCE OF STORMS TODAY: NOAA forecasters estimate a 50% to 60% chance of minor G1-class geomagnetic storms on May 19-20 when Earth enters a stream of solar wind flowing from a coronal hole on the sun. High-latitude sky watchers should be alert for auroras, especially in the southern hemisphere where darkening autumn skies favor visibility. Aurora alerts: text, voice.
HOW TO SEE NASA'S GIANT SPACE BALLOON: On May 17th, NASA successfully launched a gigantic helium balloon from Wanaka, New Zealand, on a 100+ day mission to the stratosphere. The 19 million cubic foot behemoth is now floating over southern Australia where it is visible to the naked eye. "Last night, there were many calls across New South Wales about a strange glowing orb," reports Ray Pickard from the Bathurst Observatory Research Facility in Bathurst, Australia. "This image taken through my telescope shows it to be NASA's balloon launched from New Zealand."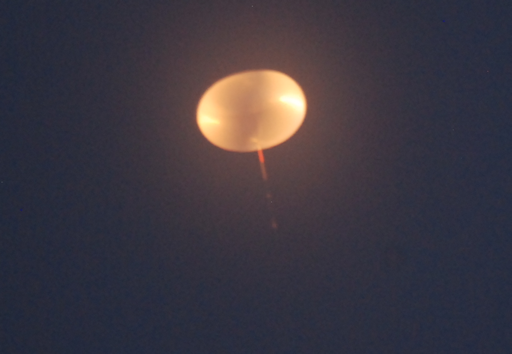 This is a test flight of NASA's super pressure balloon, which is capable of remaining at a near-constant altitude in the stratosphere for months. The previous record for such a balloon is 54 days. Engineers hope to shatter that mark by a factor of 2.
The balloon's payload includes an infrasound experiment developed by researchers at the University of North Carolina. Previous balloon flights of their instrument have recorded low-frequency sounds in the stratosphere, some of which are believed to be new to science. Also onboard is NASA's Compton Spectrometer and Imager (COSI) gamma-ray telescope; among other things, it will study the origin of positrons in the Milky Way.
Currently, the balloon is 110,000 feet above Australia. Soon it will enter a winter stratospheric cyclone that will carry it eastward, circumnavigating the globe at southern mid-latitudes once every one to three weeks. People near the flight path over Australia, New Zealand, southern Africa and South America may be able to see the balloon as it passes by. The best time to look is around sunrise or sunset when the rays of the low-hanging sun paint the balloon golden-red against the dark twilight sky.
Where is the balloon now? Click here for real-time tracking.
MARS ALERT: On any night this week, when the clock strikes midnight, step outside and look south for a brilliant red "star" in the constellation Scorpius. It's Mars, approaching Earth for a close encounter at the end of the month. On May 17th, Alan Dyer photographed the Red Planet over Dinosaur Provincial Park in Alberta, Canada: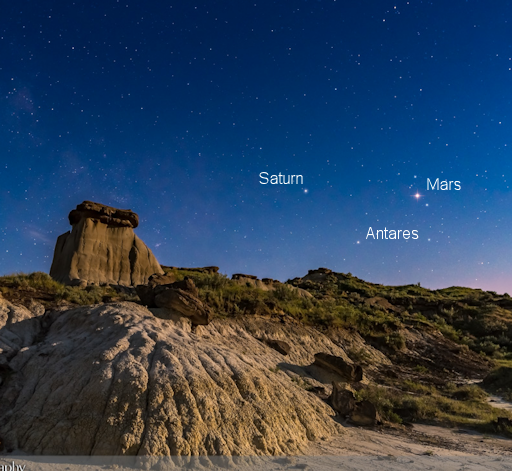 "Mars was unmistakable as the 'red planet' above the hoodoos and badlands of the Park," says Dyer. "Light from the waxing gibbous Moon provided the illumination."
Mars is not alone. Saturn and the red giant star Antares are there, too, forming a beautiful triangle with Mars as the third vertex. If you have a telescope, take a look. The rings of Saturn are easy to see through backyard optics. Ditto for the ruddy disk of Mars. The Red Planet is just finishing winter in its southern hemisphere, so be alert for a bright polar cap at the martian south pole.
Upcoming dates of interest include May 21st when the full Moon passes by Mars, guiding novices right to the Red Planet: sky map. On May 22nd Mars is at opposition. In other words, it is opposite the sun in the sky; Mars rises at sunset and stays up all night long. On May 30th, Mars makes its closest approach to Earth since 2005. Mark your calendar and enjoy the show!
Realtime Space Weather Photo Gallery
ATMOSPHERIC RADIATION--OREGON VS. CALIFORNIA: On May 8th, Spaceweather.com and the students of Earth to Sky Calculus simultaneously launched a pair of space weather balloons separated by 500 miles--one near Bend, Oregon, and the other near Bishop, California: map. Both balloons carried a payload of cosmic ray sensors to altitudes near 120,000 ft. Which state had more radiation in its atmosphere? The answer is Oregon:
The graph shows how radiation levels changed as the balloons ascended. From ground level to 40,000 feet, the two curves are almost indistinguishable. In terms of radiation, California and Oregon are much the same at altitudes where planes fly. Above 40,000 feet, however, the curves diverge. Peak radiation levels detected in the stratosphere over Oregon were more than 25% higher than California.
Some of this difference is to be expected. Oregon is closer to Earth's magnetic north pole where radiation levels are naturally higher. The natural difference between Oregon and California might have been amplified by space weather. At the time of the balloon launch, the strongest geomagnetic storm of 2016 (a G3-class event now known as the "Mother's Day Storm") was underway.
Could the Mother's Day Storm have been a factor? We will have to launch another pair of balloons to find out. A repeat of the experiment during quiet conditions should reveal the role of geomagnetic activity.
Balloon flights produce more than just good data. There's also spectacular photography. This shot shows the Cascade mountains of Oregon from 120,700 ft: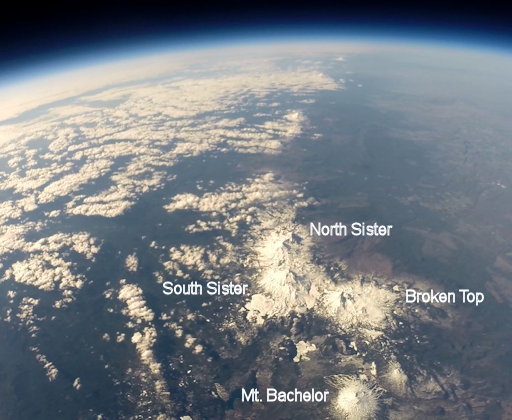 Sponsors of our research can have their pictures taken in front of this landscape. If you would like to sponsor our next Oregon-California balloon flight, currently scheduled for June, please contact Dr. Tony Phillips to get involved.
---
---
Every night, a network of
NASA all-sky cameras
scans the skies above the United States for meteoritic fireballs. Automated software maintained by NASA's Meteoroid Environment Office calculates their orbits, velocity, penetration depth in Earth's atmosphere and many other characteristics. Daily results are presented here on Spaceweather.com.
On May. 19, 2016, the network reported 7 fireballs.
(7 sporadics)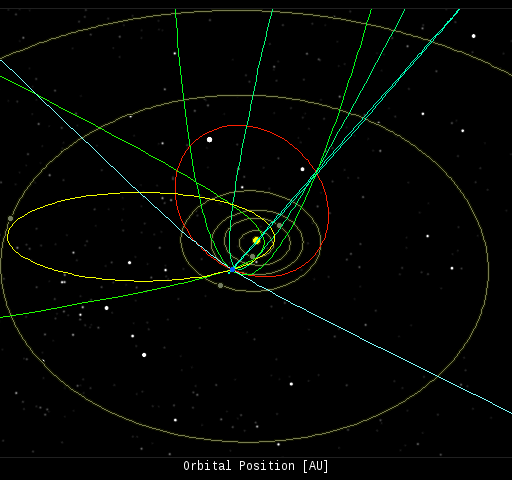 In this diagram of the inner solar system, all of the fireball orbits intersect at a single point--Earth. The orbits are color-coded by velocity, from slow (red) to fast (blue). [Larger image] [movies]
Potentially Hazardous Asteroids (
PHAs
) are space rocks larger than approximately 100m that can come closer to Earth than 0.05 AU. None of the known PHAs is on a collision course with our planet, although astronomers are finding
new ones
all the time.
On May 19, 2016 there were potentially hazardous asteroids.
Notes: LD means "Lunar Distance." 1 LD = 384,401 km, the distance between Earth and the Moon. 1 LD also equals 0.00256 AU. MAG is the visual magnitude of the asteroid on the date of closest approach.
| | |
| --- | --- |
| | Cosmic Rays in the Atmosphere |
Situation Report -- Oct. 30, 2015
Stratospheric Radiation (+37o N)
Cosmic ray levels are elevated (+6.1% above the Space Age median). The trend is flat. Cosmic ray levels have increased +0% in the past month.
Sept. 06: 4.14 uSv/hr (414 uRad/hr)
Sept. 12: 4.09 uSv/hr (409 uRad/hr)
Sept. 23: 4.12 uSv/hr (412 uRad/hr)
Sept. 25: 4.16 uSv/hr (416 uRad/hr)
Sept. 27: 4.13 uSv/hr (413 uRad/hr)
Oct. 11: 4.02 uSv/hr (402 uRad/hr)
Oct. 22: 4.11 uSv/hr (411 uRad/hr)
These measurements are based on regular space weather balloon flights:
learn more
.
Approximately once a week, Spaceweather.com and the students of Earth to Sky Calculus fly "space weather balloons" to the stratosphere over California. These balloons are equipped with radiation sensors that detect cosmic rays, a surprisingly "down to Earth" form of space weather. Cosmic rays can seed clouds, trigger lightning, and penetrate commercial airplanes. Our measurements show that someone flying back and forth across the continental USA, just once, can absorb as much ionizing radiation as 2 to 5 dental X-rays. For example, here is the data from a flight on Oct. 22, 2015: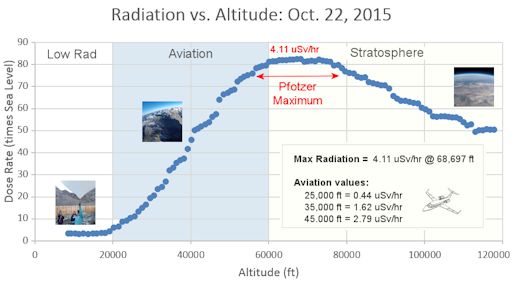 Radiation levels peak at the entrance to the stratosphere in a broad region called the "Pfotzer Maximum." This peak is named after physicist George Pfotzer who discovered it using balloons and Geiger tubes in the 1930s. Radiation levels there are more than 80x sea level.
Note that the bottom of the Pfotzer Maximim is near 55,000 ft. This means that some high-flying aircraft are not far from the zone of maximum radiation. Indeed, according to the Oct 22th measurements, a plane flying at 45,000 feet is exposed to 2.79 uSv/hr. At that rate, a passenger would absorb about one dental X-ray's worth of radiation in about 5 hours.
The radiation sensors onboard our helium balloons detect X-rays and gamma-rays in the energy range 10 keV to 20 MeV. These energies span the range of medical X-ray machines and airport security scanners.
| | |
| --- | --- |
| | The official U.S. government space weather bureau |
| | |
| --- | --- |
| | The first place to look for information about sundogs, pillars, rainbows and related phenomena. |
| | |
| --- | --- |
| | Researchers call it a "Hubble for the sun." SDO is the most advanced solar observatory ever. |
| | |
| --- | --- |
| | 3D views of the sun from NASA's Solar and Terrestrial Relations Observatory |
| | |
| --- | --- |
| | Realtime and archival images of the Sun from SOHO. |
| | |
| --- | --- |
| | from the NOAA Space Environment Center |
| | |
| --- | --- |
| | the underlying science of space weather |
| | |
| --- | --- |
| | Claim your tax refund with this UK tax rebate company and get back your overpaid tax. |
| | |
| --- | --- |
| | Enjoy this fabulous range of leather sofas from a leader in the UK sofa manufacturer industry.. |