RADIO METEORS: The Ursid meteor shower caused by Comet 8P/Tuttle peaks this year on Dec. 22nd. About a dozen meteors per hour will fly out of the Little Dipper (Ursa Minor) as Earth passes through the comet's debris stream. Watching these northern meteors can be a chilling experience, so why not stay inside and listen to them instead? Spaceweather.com is broadcasting live audio from the Air Force Space Surveillance Radar in Texas. When a meteor passes over the radar--"ping"--there is an echo. Give it a try; feedback is welcomed.
FIND THE COMET: On Dec. 12th and 13th, NASA's STEREO spacecraft photographed a coronal mass ejection (CME) billowing over the limb of the sun. Click on the image to set the scene in motion: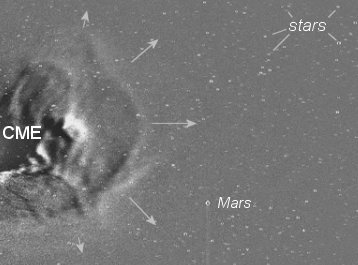 Play the movie: 5 MB Quicktime or avi
Now play it again. Did you see the comet? It's just a speck among the stars and billowing debris; look for it along this flight path.
The comet's name is P/2003 K2 (Christensen). It was discovered in May 2003 by astronomer Eric Christensen and then, as sometimes happens to new comets with poorly-known orbits, it was lost again. Comet Christensen went missing for more than five years until STEREO found it again. Spacecraft (especially SOHO) have discovered many comets, but this is the first time a spacecraft has recovered one: full story.
SATURN'S RINGS: You might never see Saturn's rings this skinny again. Since 2008 began, the rings have been tilting toward Earth and now they are nearly edge-on with an opening angle of only 0.8o. A composite image submitted by Efrain Morales Rivera of Aguadilla, Puerto Rico, shows how the geometry has changed: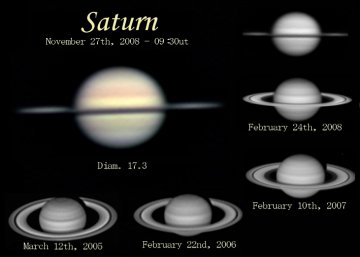 As Saturn goes around the sun, it periodically turns its rings edge-on to Earth—once every 14-to-15 years. That's what is happening now. Earth is approaching Saturn's "ring plane," a vantage that transforms the normally wide and bright rings into a dark line bisecting Saturn's two hemispheres.
The rings will completely disappear on Sept. 4, 2009, when Earth crosses through the ring plane. Unfortunately, no one will be able to see it because Saturn will be so close to the Sun. The next ring plane crossing in plain view of Earth won't come until the year 2038.
Until then, the skinniest you're likely to see Saturn's rings is now. Saturn is easy to find in the constellation Leo just before dawn. Point your backyard telescope and behold the edge: sky map.
---
Dec. 2008 Aurora Gallery
[Previous Decembers: 2007, 2006, 2005, 2001, 2000]