| | | |
| --- | --- | --- |
| ASTRONOMY ALERTS: Looking for a unique and affordable gift? Give the heavens for Christmas at Spaceweather PHONE. | | |
A FLASH OF LIGHT FROM TITAN: NASA's Cassini spacecraft has photographed a flash of sunlight reflecting from a lake on Titan, confirming the presence of liquid methane on Saturn's largest moon. Science@NASA has the full story.
SUNSPOT SUNSET: Last night, Tamas Ladanyi watched the sun set behind a Franciscan Church in Veszprem, Hungary. To his surprise, he noticed sunspot 1035 staring back at him: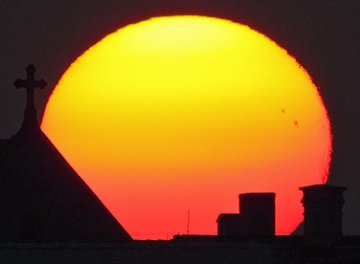 "It was a spectacular sunset with sunspot 1035 [visible as two dark patches on the dimmed solar disk]," says Ladanyi. "I took the picture using a Canon 450D without a filter."
Saturday night could begin with another "sunspot sunset." Sunday night, however, will not. Sunspot 1035 is approaching the sun's western horizon and will likely vanish when the weekend is done. Stay tuned for parting shots.
Note: Only über-experienced astrophotographers like Ladanyi should consider taking pictures of the sun with unfiltered optics. Even when the sun is hanging low, focused sunlight can damage both eyes and cameras.
more images: from Peter Paice of Belfast, Northern Ireland; from Rogerio Marcon of Campinas - Brasil; from Pete Lawrence of Selsey, West Sussex, UK; from C. Swiger and J. Stetson of South Portland, Maine; from Brian Emfinger of Ozark, Arkansas; from John C McConnell of Maghaberry, Northern Ireland; from Sylvain Weiller of Saint Rémy lès Chevreuse, France;
SOLSTICE SUN TRACKS: "The solstice is just around the corner," says Becky Ramotowski of Tijeras, New Mexico. "I made this 'solargraph' by leaving a pinhole camera outside, exposing the daily path of the Sun from Summer Solstice to Winter Solstice."
The solstice arrives on Dec. 21st at 1747 UT (12:47 EST).
"I know Winter Solstice is not 'officially' here yet, but here in Tijeras the Sun reached it's lowest altitude today (Dec. 18th), so the solar tracks will not get any lower than shown," notes Ramotowski. "The gaps in the streaks were cloudy days when the Sun was blocked. As you can see, there are a LOT of sunny days in New Mexico. There was condensation inside the camera, so the photo shows that moisture."
---
2009 Geminid Meteor Gallery
[sky map] [meteor radar] [Geminid counts]
---
December Northern Lights Gallery
[previous Decembers: 2008, 2007, 2006, 2005, 2001, 2000]
---