| | | |
| --- | --- | --- |
| Listen to radar echoes from satellites and meteors, live on listener-supported Space Weather Radio. | | |
OFF-TARGET CME COULD SPARK STORMS: According to NOAA analysts, a CME hurled into space by an M3-class solar flare on August 17th will probably miss Earth. However, Earth will likely pass through the wake of the CME after the cloud itself passes by. This could trigger polar geomagnetic storms despite the CME being off-target. High-latitude sky watchers should be alert for auroras on August 20-21. Aurora alerts: text, voice.
SUNDIVING COMET AND FULL-HALO CME: A small comet plunged into the sun this morning, and just before it arrived, the sun expelled a magnificent full-halo CME. Click to view a movie from the Solar and Heliospheric Observatory (SOHO):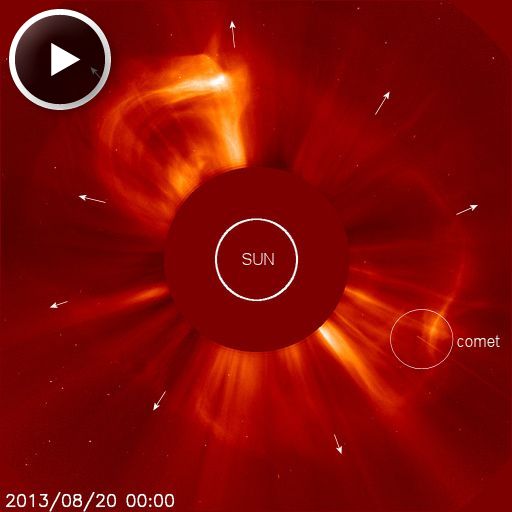 In the final frames of the movie, the comet can be seen furiously vaporizing. Indeed, those were the comet's final frames. It did not emerge again from its flyby of the hot sun. "With a diameter of perhaps a few tens of meters, this comet was clearly far too small to survive the intense bombardment of solar radiation," comments Karl Battams of the Naval Research Lab, who studies sungrazing comets.
The CME (coronal mass ejection) came from an explosion on the farside of the sun. Although the CME and the comet appear to intersect, there was probably no interaction between the two. The comet is in the foreground and the farside CME is behind it.
Occasionally, readers ask if sundiving comets can trigger solar explosions. There's no known mechanism for comets to spark solar flares. Comets are thought to be too small and fragile to destabilize the sun's magnetic field. Plus, this comet was still millions of kilometers from the sun when the explosion unfolded.
The comet, R.I.P., was a member of the Kreutz family. Kreutz sungrazers are fragments from the breakup of a single giant comet many centuries ago. They get their name from 19th century German astronomer Heinrich Kreutz, who studied them in detail. Several Kreutz fragments pass by the sun and disintegrate every day. Most, measuring less than a few meters across, are too small to see, but occasionally a bigger fragment like this one attracts attention.
Realtime Space Weather Photo Gallery
COLORFUL SPRITES OVER NEBRASKA: "August 12th was another successful night in our sprites campaign," reports Jason Ahrns of the University of Alaska Fairbanks. With a team of researchers from NCAR, he has been flying over the midwestern USA onboard a Gulfstream V in search of exotic forms of lightning. As they were photographing a thunderstorm over Nebraska, these six sprites appeared: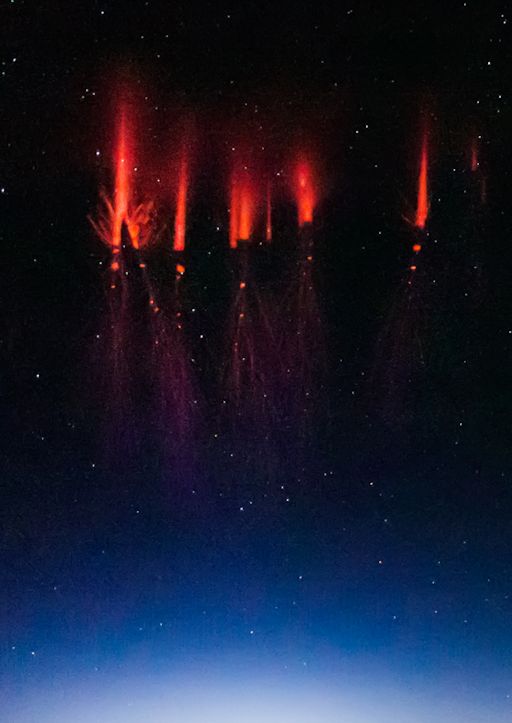 These remarkably beautiful discharges were red on top and purple on the bottom. "I really can't explain the color change," says Ahrns. "That's one of the things we hope to investigate with this campaign by capturing high speed spectra."
First documented in 1989 by scientists from the University of Minnesota who photographed strange flashes coming out of the tops of thunderstorms, sprites remain a mystery today. Neither their basic physics nor their effect on the surrounding atmosphere is well understood. "Do sprites have a large scale impact on the middle atmosphere?" asks Ahrns. "Sprites clearly represent some kind of transfer of energy, but is it on a scale that has a significant effect on the weather and climate? We can't answer that without studying them."
The ephemeral nature of sprites (they typically last no more than a few milliseconds) makes them tricky to study. Researchers on the NCAR Gulfstream capture sprites using Phantom cameras running at 10,000 frames per second. "One of the Phantoms has a diffraction grating in front of it to capture high speed spectra, which I don't think has ever been done before," notes Ahrns.
The prettiest pictures, though, come from Arhns' own camera, a dSLR that he mounts in the window of the airplane to capture "beauty shots." The image above is an example. More may be found in Ahrns' personal blog.
---
---
---
Realtime Noctilucent Cloud Photo Gallery
[previous years: 2003, 2004, 2005, 2006, 2007, 2008, 2009, 2011]
---