| | | |
| --- | --- | --- |
| NEW AND IMPROVED: Turn your iPhone or iPod Touch into a field-tested global satellite tracker. The Satellite Flybys app now works in all countries. | | |
LYRID METEOR SHOWER: The Lyrid meteor shower peaks on April 22nd when Earth passes through a stream of debris from Comet Thatcher (C/1861 G1). The best time to look is during the hours before dawn on Thursday morning. Forecasters expect as many as 20 meteors per hour. [full story] [fireball movie]
STUNNING IMAGES OF THE SUN: NASA's Solar Dynamics Observatory is beaming back stunning new images of the sun, revealing our own star as never seen before. Even veteran solar physicists say they are amazed by the data. Click on the prominence, below, to see what everyone is so excited about:
Related links:
VOLCANIC LIGHTNING: Iceland's active Eyjafjallajokull volcano is famous for its paralyzing ash, which has grounded thousands of planes in Europe and disrupted travel worldwide. Even more amazing, however, is its white-hot lightning: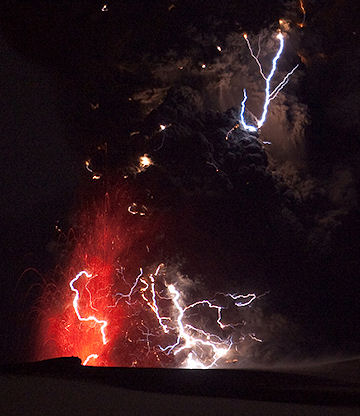 "Seeing this lightning crackle among the exploding lava and ash was the experience of a lifetime," says Olivier Vandeginste, who took the picture on April 18th from Hvolsvollur, Iceland.
It is well known that volcanoes produce lightning, but scientists aren't sure why. The underlying mechanism is likely to be some form of triboelectric charging--that is, things bumping or rubbing together (like socks rubbing on carpet) to create a build-up of static electricity. That's how it works in sand storms and even ordinary thunderstorms. In a volcano, the "rubbing things" may be bits of ash and droplets of lava, although no one is certain.
To investigate, a team of researchers from New Mexico Tech has arrived in Iceland to study the phenomenon. Photography is not their primary method, however. Cameras are limited to what they can see through the heavy clouds of ash. Radio receivers can do a better job. Lightning emits impulsive radio bursts which can be measured and counted, day or night, even through clouds of ash. "We are deploying a six-station lightning mapping array around the Eyjafjallajokull volcano," says team member Harald Edens. Their analysis of the radio "crackles" could reveal much about the inner workings of volcanic lightning.
---
April Northern Lights Gallery
[previous Aprils: 2009, 2008, 2007, 2006, 2005, 2004, 2003, 2002]