AURORA WATCH: A high-speed solar wind stream is buffeting Earth's magnetic field. Polar sky watchers should be alert for auroras tonight.
SPACESHIP SIGHTINGS: Space shuttle Atlantis is docked to the International Space Station (ISS) and together the two spacecraft are putting on a good show in the night sky. On Nov. 19th, Tamas Ladanyi caught the pair arcing over Balatonaliga, Hungary: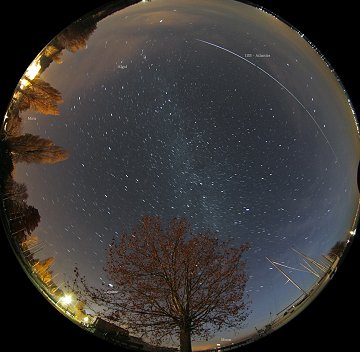 "I took the picture using a Canon 450D and a fisheye lens," he says. "In the full-sized photo you can see Jupiter peeking through the branches of the tree and the Moon setting in the distance. It was a beautiful autumn night at Lake Balaton."
On Nov. 25th, Atlantis will undock from the ISS. At that time, the brilliant streak shown above will split in two and double flybys will commence for a couple of nights while Atlantis prepares to land on Earth. Monitor the Simple Satellite Tracker for sighting opportunities.
more images: from P-M Hedén of Ålbo, Sweden; from Janusz Krysiak of Koluszki, Poland; from Nicolas Biver of Versailles, France; from Jiri Srba of Valasske Mezirici, Czech Republic; from Pawel Warchal of Cracow, Poland; from Dewey Vanderhoff of Cody Wyoming;
EXTRA SUN HALOS: Normally, when we see an ice halo around the sun, it is a single ring. But yesterday in Sumrall, Mississippi, sky watcher Barry Russell counted more. "There were [at least] 3 halos around the sun! I was really shocked to see 3 of them at once," he says. (continued below)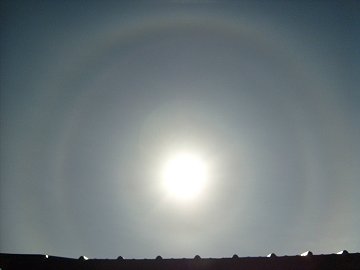 Where did the extra rings come from? Atmospheric optics expert Les Cowley explains: "Ice crystals with pyramid-shaped ends made these halos. Most of the halos we see are from six-sided plate-shaped and pencil-shaped crystals with flat ends. Put pyramids on their ends and the sun's rays can pass through them in several more ways to make odd-radius halos. Here, in addition to the familiar 22o circular halo we have ones of 9o, 18o, 23o and 24o radius."
" Pyramidal halos are often overlooked," Cowley notes. "Search for them whenever cirrus clouds drift in front og the sun."
---
November Northern Lights Gallery
[previous Novembers: 2008, 2007, 2006, 2004, 2003, 2002, 2001]
---
2009 Leonid Meteor Gallery
[previous Leonids: 1998, 2001, 2002, 2006]
---