URSID METEORS: Earth is entering a stream of debris from comet 8P/Tuttle and this is causing the annual Ursid meteor shower. Forecasters expect the Ursids to peak on Dec. 22nd with 8 to 10 meteors per hour flying out of the constellation Ursa Minor (the Little Dipper). The display is usually mild, but outbursts of Ursids occasionally surprise observers with rates many times normal.
Watching these northern meteors can be a chilling experience, so why not stay inside and listen to them instead? Spaceweather.com is broadcasting live audio from the Air Force Space Surveillance Radar in Texas. When a meteor passes over the radar--"ping"--there is an echo. Give it a try; feedback is welcomed.
SOLSTICE WEBCAST: Today is the northern winter solstice. When the solstice sun came up this morning over Ireland, a shaft of sunlight traveled down an 18 meter tunnel to illuminate the inner chamber of Newgrange, a massive prehistoric burial mound in County Meath. It looked like this: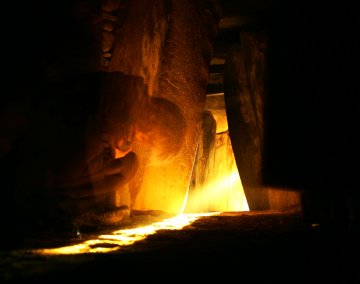 Newgrange is 5000 years old, predating the better-known Stonehenge in the neighboring island of Great Britain by more than a thousand years. This makes it one of the oldest megalithic monuments in the world with a known astronomical function. Curators of Newgrange webcast this morning's event; you can watch it here.
There is a similar burial mound from the same era in Orkney: Like Newgrange, Maeshowe is also aligned with the solstice sun. As the midwinter sun slips below the horizon, its last rays shine directly through Maeshowe's entrance passage to illuminate the rear wall of the central chamber. Live images from Maeshowe may be found here.
WINTER SKY: Northern winter has begun, and that means Orion now rules the night sky. The mighty hunter rises in the east at sunset, towers overhead at midnight, and watches the sun rise astride the western horizon at dawn. Photographer P-M Hedén sends this photo entitled Orion and Me from Hedesunda, Sweden: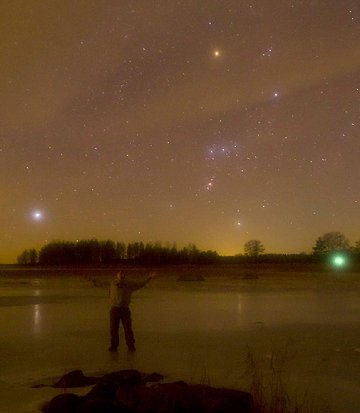 "What a lovely sky I had last night!" says Hedén, "It cleared up and the constellation of Orion was setting over the Dalriver outside Hedesunda. I hope that this will be the sight tonight when the Ursids are underway. I took the picture using my Canon Digital Rebel XT."
---
Dec. 2008 Aurora Gallery
[Previous Decembers: 2007, 2006, 2005, 2001, 2000]