| | | |
| --- | --- | --- |
| ASTRONOMY ALERTS: Looking for a unique and affordable gift? Give the heavens for Christmas at Spaceweather PHONE. | | |
THE SEASONS ARE CHANGING: Today at 12:47 pm EST (1747 UT), the sun dipped to its lowest celestial latitude of the year. The event, called "the December solstice," marks the beginning of winter in the northern hemisphere and summer in the southern hemisphere. Happy Solstice! Stonehenge Solstice Photos: #1, #2, #3, #4, #5
SUNSET SKY SHOW: When the sun sets tonight, go outside and look up. Jupiter and the crescent Moon will be shining side-by-side in the southwestern sky. Photographer Mahdi Zamani sends this photo from Tehran, Iran: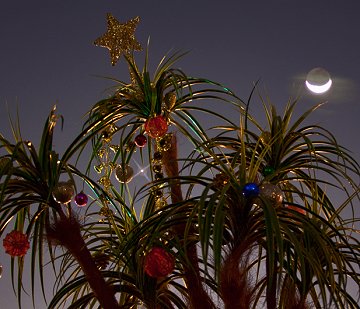 "Jupiter and the Moon were spectacular shining through the fronds of this Middle Eastern-style Christmas tree," says Zamani. "I took the picture using a Canon 50D set at ISO 650 for six seonds."
Advice to readers: Look before the sky fades all the way to black. A bright conjunction of worlds framed by twilight blue is an especially lovely sight. [sky map]
more images: from Rafael Schmall of Hungary, Somogy, Kaposfo; from Valentin Grigore of Targoviste, Romania; from Khosro JafariZadeh of Shushtar, Khuzestan, Iran; from Alex Conu of Bucharest, Romania; from Catalin M. Timosca of Mihai Viteazul, Romania; from Tomasz Adam of Staszów, Poland; from Mohamad Soltanolkottabi of Kashan, Iran
DON'T TRY THIS AT HOME: Looking at the sun through unfiltered optics can be very dangerous. This is especially true if you're a snowman: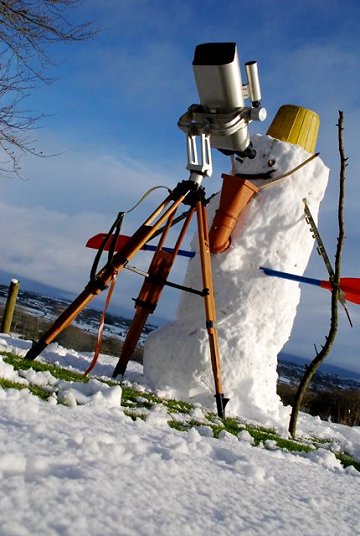 "He might have to wait till dark to catch any stars--if he lasts that long," says photographer Jonathan Bingham of Killead, Northern Ireland.
Today's sun is a tempting target. For the first time in a year and a half, there are three spots on the sun at the same time. With the sun in the pits of the deepest solar minimum in a century, such an outbreak is remarkable. Readers with safely-filtered solar telescopes should take a look.
more photos: from Andreas Murner of Rosenheim, Bavaria, Germany; from Rogerio Marcon of Campinas - Brasil; from Pete Lawrence of Selsey, West Sussex, UK; from Adrian Guzman of San Jose, CA; from Fabio Mariuzza of Biauzzo, Italy; from Richard Best of Lewes, Sussex, England; from Javier Temprano of Santander, Spain
---
December Northern Lights Gallery
[previous Decembers: 2008, 2007, 2006, 2005, 2001, 2000]
---