| | | |
| --- | --- | --- |
| SATELLITE FLYBYS APP: Turn your iPhone or iPod into a field-tested satellite tracker! Spaceweather.com presents the Satellite Flybys app. | | |
VAPORIZED! ONE LESS COMET: As expected, yesterday's sungrazing comet discovered by STEREO did not survive its close encounter with the sun. One cosmic snowball went in--none came out. The Solar and Heliospheric Observatory (SOHO) made this movie of the death plunge.
SUNSPOT UPDATE: Sunspot 1041 is calming down. After reeling off a string of five M-class solar flares between Jan. 18th and 20th, there have been no significant eruptions since. For now, the active region is merely photogenic: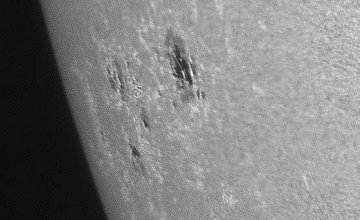 Amateur astronomer Dennis Simmons took the picture yesterday from his backyard observatory in Brisbane, Australia.
Although it's been a calm day, the magnetic field of sunspot 1041 still harbors energy for strong eruptions. NOAA forecasters estimate a 35% chance of more M-flares during the next 24 hours. Readers with solar telescopes are encouraged to monitor developments.
more images: from James Kevin Ty of Manila, the Philippines; from Pavol Rapavy of Observatory Rimavska Sobota, Slovakia
NORTHERN LIGHTS: On Jan. 20th, a solar wind stream hit Earth's magnetic field and sparked bright auroras around the Arctic Circle. "Finally, after what seemed like years of waiting, the sky exploded with auroras," says Andreas D. Skjervold of Bodø, Norway. "The display was so strong, I had no problem photographing it in the middle of the city lights by our Aviation museum in Bodø."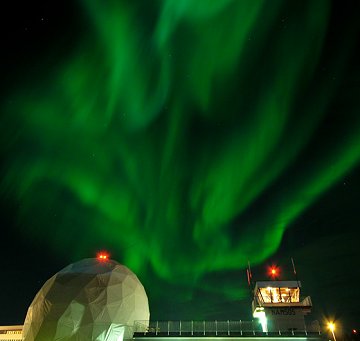 Photo details: Nikon D300, Sigma 10-20mm, 15 sec, ISO640
The solar wind's impact on Jan. 20th caused a geomagnetic storm registering 5 on the 0-to-9 K-index scale of magnetic disturbances. It was the first geomagnetic storm of the year--but probably not the last. With active sunspot 1041 turning toward Earth, there could be more in the offing. High-latitude sky watchers should remain alert for auroras.
UPDATED: January Northern Lights Gallery
[previous Januarys: 2009, 2008, 2007, 2005, 2004, 2001]
---
Solar Eclipse Photo Gallery
[World Map of Eclipse Sightings]