SUNSPOT ALERT: The sun is not blank. A new sunspot is emerging near the sun's southeastern limb. Its high latitude suggests it is a member of new Solar Cycle 24. Photos: from Sjoerd Dufoer of Oostkamp, Belgium; from Cai-Uso Wohler of Bispingen, Germany; from Pete Lawrence of Selsey, West Sussex, UK; from N. Lavoie and J. Stetson of South Portland, Maine
DARK FILAMENT: Astronomers are monitoring a dark filament of magnetism on the sun. "The filament is very dynamic and a tremendous amount of detail can be seen," reports observer Pete Lawrence. He made this movie and took the picture below using a SolarScope SF-70 at his backyard observatory in Selsey UK.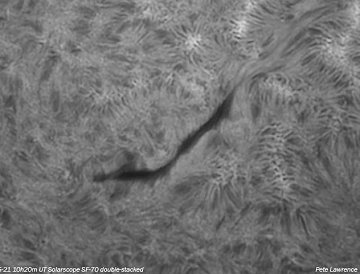 The dark material in the filament is a mixture of hydrogen and helium gas, seemingly dark because it is cooler than the inferno below. In fact, if you could hold the filament up against the night sky, it would glow fiery red with the luminosity of a full Moon, Sometimes filaments become unstable and collapse. When they crash down onto the surface of the sun, the result is a type of solar flare called a Hyder flare. So far this filament is holding steady, which means you still have time to observe it. Readers with solar telescopes, point your optics here.
more images: from Didier Favre of Brétigny sur Orge, France; from Christophe Behaegel of Vilvoorde, Belgium; from Keith Davies of Swansea, South Wales, UK; from Günther Strauch of Borken, NRW, Germany; from Mike Borman of Evansville, Indiana;
HOOPS: Sun halos were once regarded as omens of bad weather, but now we know that is not true. They are really omens of bad basketball: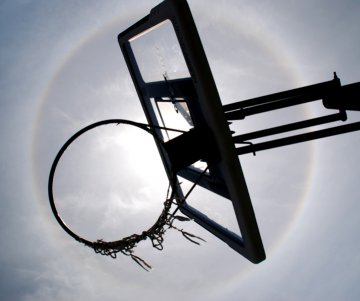 Two days after Jun Lao photographed this 22-degree halo circumscribing a backboard in Mason, Ohio, his state's professional basketball team, the Cleveland Cavaliers, lost the first game of the NBA's Eastern Conference finals to the underdog Orlando Magic. Led by the league's MVP, Lebron James, and enjoying a nearly invincible home court advantage, the Cavs were mysteriously defeated.
Coincidence? Lao explains what really happened: "A cold front passed through our area yesterday and left behind some wispy, icy clouds." Ice crystals in the clouds bent the rays of the sun into a luminous halo as shown. It had nothing to do with basketball.
Nevertheless, Cleveland fans may wish to keep an eye on the sky. The next game is tonight.
---
April 2009 Aurora Gallery
[previous Aprils: 2008, 2007, 2006, 2005, 2004, 2003, 2002]
---