| | | |
| --- | --- | --- |
| It's a once in a lifetime event: the June 5th Transit of Venus across the sun. Watch the world wide webcast sponsored by the Coca-Cola Science Center and NASA. | | |
QUIET SUN: With no sunspots actively flaring, the sun's x-ray output has flatlined. Solar activity is low, and likely to remain so for the next 24 hours.
DRAGON SIGHTINGS: NASA officials are calling it a turning point in space exploration. Yesterday, a commercial rocket, SpaceX's Falcon 9, blasted off from Cape Canaveral on a mission to re-supply the International Space Station. As the Falcon 9 roared into the sky, Brent of Orlando, Florida, photographed its fiery exhaust through his backyard telescope: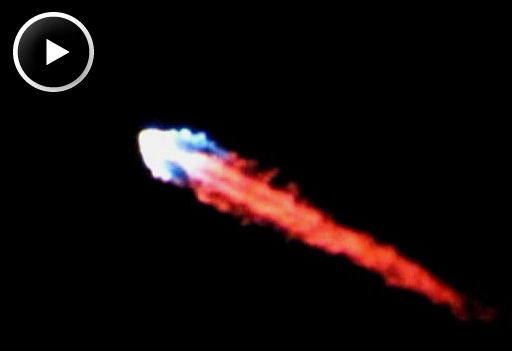 "What a neat launch!" he says. "I was able to see it from 60 miles away."
The rocket propelled SpaceX's Dragon spacecraft into orbit, where it is now chasing the ISS around Earth. Docking is expected on May 25th. The Dragon is carrying about 1,200 pounds of supplies (mainly food and clothing) for the crew of the station. The spacecraft can hold 7,300 pounds of material, but because this is a test flight, the manifest was limited.
Are you ready to see the Dragon? It is flying over North America during the hours before dawn. Check Space Weather's Simple Satellite Tracker or your cellphone for sighting opportunities.
SOLAR WIND SPARKS AURORAS: A high-speed solar wind stream is buffeting Earth's magnetic field, and this is causing intermittent auroras at high latitudes. First contact with the stream on May 22nd turned the sky over Cumbria, United Kingdom, deep purple: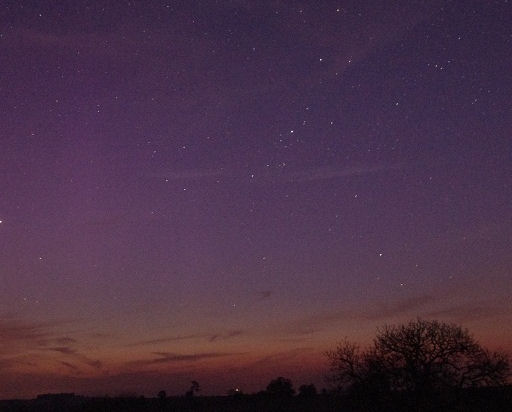 "The sky was bright because of twilight, but we could still see these faint auroras," says photographer Jon Cooper.
This is not a major space weather event. Nevertheless, more auroras are in the offing. NOAA forecasters estimate a 15% to 20% chance of storms around the poles as the solar wind continues to blow. Aurora alerts: text, voice.
more images: from Darryl Van Gaal of Horwood Lake Lodge, Timmins, Ontario; from Horace Smith of Clinton County, Michigan; from Steve Irvine of Big Bay, ON, Canada; from Dirk S. Miller of Rice Lake, Wisconsin.
FANTASTIC ECLIPSE: The Moon passed in front of the sun on Sunday, May 20th, producing a deep solar eclipse visible across the Pacific side of Earth. Sunlight dimmed, the air cooled, ordinary sunbeams turned into fat crescents and rings of light. And the sunset was definitely different. Jacob Thumberger sends this picture from Gail, Texas: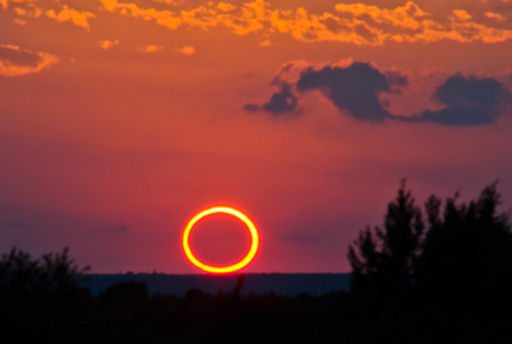 Many more pictures of the eclipse may be found in our new realtime photo gallery. It's an experimental service, so feel free to report problems. Start clicking for rings of fire:
Space Weather Real Time Image Gallery
[Submit your photos] [NASA video: Solar Eclipse over the USA]