| | | |
| --- | --- | --- |
| Hang the Transit of Venus on your wall! Hubble-quality images from NASA's Solar Dynamics Observatory are now available as metallic posters in the Space Weather Store. | | |
QUIET SUNSPOTS: There are four sunspots visible on the Earthside of the sun. None of them is actively flaring. NOAA forecasters put the odds of an M-class solar flare today at no more than 10%. Solar flare alerts: text, voice.
FALLING FOR AURORAS: A stream of solar wind flowing from a coronal hole is expected to hit Earth's magnetic field on Jan. 25-27. In response, NOAA forecasters estimate a 25% to 40% chance of polar geomagnetic storms. High-latitude aky watchers should be alert for auroras in the nights ahead. Aurora alerts: text, voice.
Warning: Solar wind can affect your equilibrium. Photographer Göran Strand of Kall, Åre, Sweden, documented the effect in this composition he calls Falling for Auroras: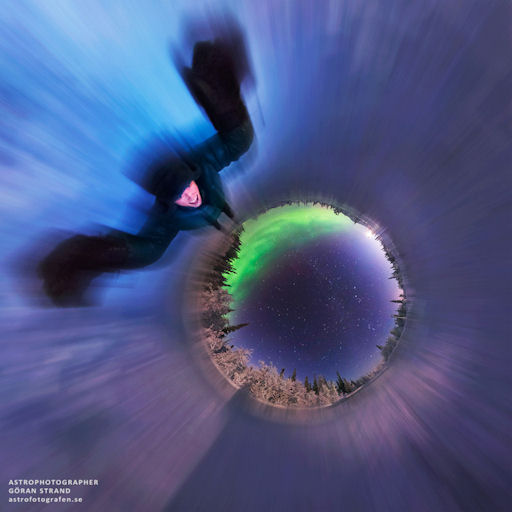 "I assembled this 360-degree image from photos I took during an aurora display on Jan. 17th," says Strand. "The joy of seeing an aurora dancing in the sky is the same joyful feeling as sledding down a slope."
INCOMING COMET: In little more than a month, Comet PanSTARRS will cross the orbit of Mercury and probably brighten to naked-eye visibility as it absorbs the heat of the nearby sun. Sky watchers around the world will be looking for it in the sunset skies of early March, when it passes closest to the sun and to Earth. Until then a telescope is required; here is the view last night through a 0.3-meter-diameter reflector in Argentina: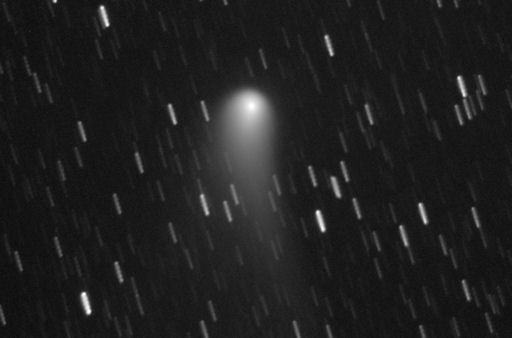 A team of astronomers led by Martin Masek took the picture using the remotely-controlled F(/Ph)otometric Robotic Atmospheric Monitor--"FRAM" for short. "The stars are trailed in this 9x120s exposure, which tracked the comet," explains Masel.
Currently, the comet ranks about 8th magnitude, dimmer than the human eye can see, but it could brighten 100-fold on March 10th when it makes its closest approach to the sun (0.3 AU). The latest curves suggest that PanSTARRS will emerge glowing about as brightly as a 3rd magnitude star, similar to the stars in the Big Dipper.
There might, however, be surprises in store. Comet PanSTARRS has never been to inner solar system before. It is falling in from the Oort cloud, a great swarm of comets beyond Neptune and Pluto unaltered by the warmth of the sun. When Comet PanSTARRS dips it toe inside the orbit of Mercury for the first time, almost anything could happen ranging from an anticlimatic "bake-out" to a spectacular disruption. Stay tuned for updates. [3D Orbit]
FILAMENT ERUPTIONS: Two long filaments of solar magnetism erupted yesterday, Jan. 23rd, hurling bright coronal mass ejections into space. This one passed directly in front of Mercury: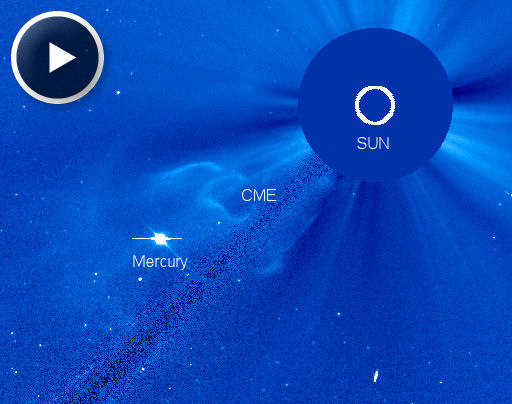 A second CME sailed high over the sun's north pole: image. Earth was not in the line of fire of either eruption.
NASA's Solar Dynamics Observatory recorded the eruption that hurled the CME in front of Mercury. Click to set the scene in motion: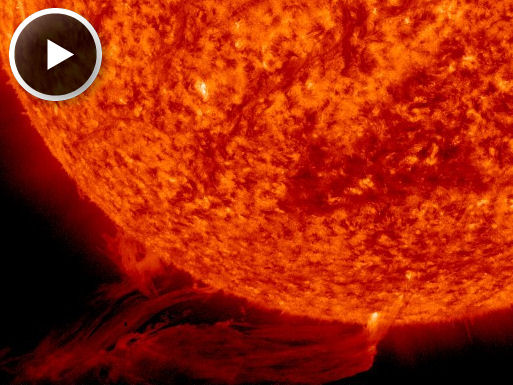 These events show that sunspots are not required for solar activity. Neither of the filaments that erupted yesterday were rooted in a sunspot's dark core. Meanwhile, all of the the sunspots currently visible are quiet; left to themselves, solar activity would be very low. Solar flare alerts: text, voice.
Realtime Space Weather Photo Gallery
---
Realtime Noctilucent Cloud Photo Gallery
[previous years: 2003, 2004, 2005, 2006, 2007, 2008, 2009, 2011]