| | | |
| --- | --- | --- |
| NEW AND IMPROVED: Turn your iPhone or iPod Touch into a field-tested global satellite tracker. The Satellite Flybys app now works in all countries. | | |
VENUS AND THE PLEIADES: Tonight, shortly after sunset, go outside and look west. There's Venus--you can't miss it. Can you also see the faint star cluster right beside Venus? Venus and the Pleiades are in conjunction this weekend, only a few degrees apart. Using binoculars, scan the sky around Venus and you'll easily see the Pleiades, too. [sky map]
"QUIET" SUN: The sun has been without spots for ten consecutive days, prompting some observers to label the sun "quiet." But just how quiet can a 1027 ton nuclear explosion actually be? "Let us remember that the sun is never truly 'inactive' or 'boring,'" says astrophotographer Wouter Verhesen. "Stunning, fiery beauty lies just 150,000,000 km away--every day!" He sends this snapshot of the inferno from his backyard observatory in Sittard, The Netherlands: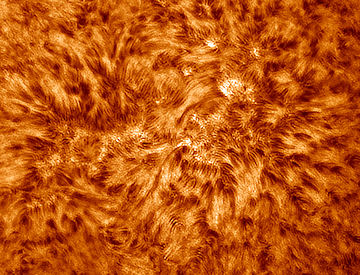 Verhesen focused his solar telescope on an active region near disk center. It's a place where solar magnetic fields are intense, but not quite intense enough to form a dark-cored sunspot. The sun's atmosphere in this area is a veritable tempest of hot, magnetized plasma, and a fine target for backyard solar telescopes.
Spotless? Yes. But maybe not so quiet, after all. More images: from Cai-Uso Wohler of Bispingen, Germany; from Martin Gembec of Jablonec nad Nisou, Czech Republic; from Pascal Paquereau of Pouillé, Vendée, France.
MIDNIGHT LIGHTS: A solar wind stream is buffeting Earth's magnetic field and causing auroras around the Arctic Circle. In Alaska, the green lights have been dancing across a canvas of twilight blue. "The sky no longer gets dark here at 65° north," reports LeRoy Zimmerman of Fairbanks. "The northern horizon now has constant light all night long. I took these panoramic shots during the midnight hours of April 22nd."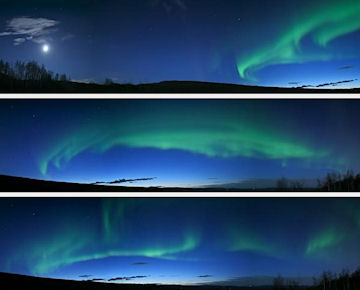 "The auroras were soft and quiet, but lovely to watch," he continues. "It's a little sad to have the auroras active again just as we are losing our darkness. I reckon I have only ten more days of photography left before the midnight sun completely spoils the show."
"On the bright side," he points out, "it was not cold! I was outdoors from about midnight until 2:00am local time and felt comfortable the whole time."
April Northern Lights Gallery
[previous Aprils: 2009, 2008, 2007, 2006, 2005, 2004, 2003, 2002]