GEOMAGNETIC STORM: A solar wind stream hit Earth's magnetic field on June 24th, sparking a brief but potent geomagnetic storm (Kp=5). The midnight sun prevented sightings of Northern Lights around the Arctic Circle.
VOLCANIC SUNSET: On June 22nd, photographer Brian Whittaker was flying 35,000 feet above Nunavut, Canada, when he witnessed "the most spectacular sunset that I have ever seen," he says. "The giant volcanic cloud from Russia's Sarychev Peak [see below] was illuminated by the arctic sun--and this completely transformed the landscape. For a moment, I thought I was on Mars."
This was the view from the window seat: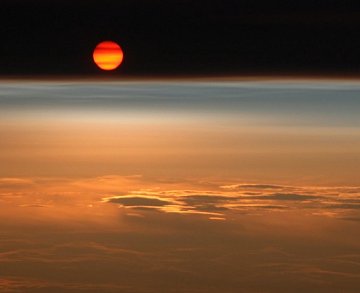 "All the curtains were drawn so that people could sleep which is very normal," notes Whittaker. "It is possible that very few people have seen this despite all the potential observers!"
Whittaker's airplane traveled all the way from British Columbia to Europe, so he got a good long look at the cloud. "It stretched for more than 4000 kilometers. Will it reach Europe?" he wonders. Stay tuned for updates.
SARYCHEV PEAK VOLCANO: Perfect timing. On June 12th, just as Russia's Sarychev Peak volcano was erupting for the first time in 20 years, the International Space Station flew directly overhead. Astronauts had their camera ready and snapped one of the most dramatic Earth-science photos ever taken from space: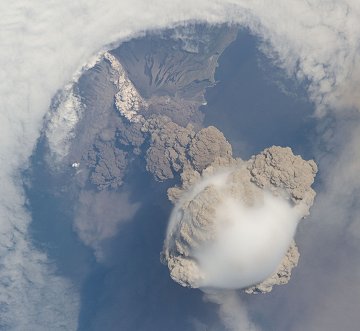 Researchers are studying this rare photo to learn about the early stages of powerful volcanic eruptions. A few phenomena stand out:
(1) The volcano erupted with such force, the plume actually punched through the atmosphere. Note how clouds around the volcano have parted in a circular ring--that is a result of a shock wave produced by the upward blast. (2) The plume is a mixture of brown ash and white steam. A "dirty thunderstorm" complete with lightning could be in progress within the roiling cloud. (3) The smooth white bubble on top of the plume is probably a mass of water condensing from air shoved upward by the rising ash column. If so, it is akin to the iridescent pileus clouds sometimes featured on spaceweather.com.
If you're not amazed yet, try this: Put on a pair of red-blue stereo glasses and behold the eruption in 3D. The anaglyph was created by graphic artist Patrick Vantuyne of Belgium. No stereo glasses? A cross-eyed version is also available.
---
2009 Noctilucent Photo Gallery
[previous years: 2008, 2007, 2006, 2005, 2004, 2003]
---