| | | |
| --- | --- | --- |
| Thirty-five new items have just been added to our Meteorite Jewelry collection. Browse the Space Weather Store for something out of this world. | | |
SLIM CHANCE OF FLARES: The Earthside of the sun is quiet. There are only three small sunspot groups, and none of them is actively flaring. NOAA forecasters put the odds of an M-class solar flare today at no more than 5%. Solar flare alerts: text, voice.
ARCTIC AURORAS: A fast-moving (~550 km/s) stream of solar wind is buffeting Earth's magnetic field, sparking auroras around the Arctic Circle. In Alaska, the display was bright enough to see in full moonlight: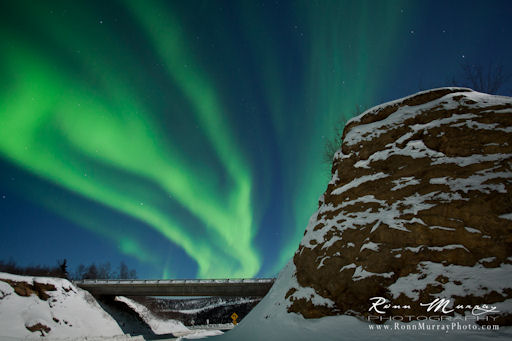 "Who says you can't photograph auroras under the full moon?" says Ronn Murray who took the picture from Fairbanks. "The very bright moon illuminated the landscape as the beautiful Northern Lights danced overhead."
NOAA forecasters estimate a 35% chance of polar geomagnetic storms tonight as the solar wind continues to blow. Solar flare alerts: text, voice.
FULL MOONDOGS: It's winter, the air is filled with ice, and the Moon is waxing full--perfect conditions for a moondog. Sebastian Saarloos photographed a pair of them flanking the Moon over Lower Miller Creek, Alaska:
"Paraselene is the scientific name for a moondog," says Saarloos. "The phenomenon is caused by moonlight shining through ice crystals in the air." Hexagonal plate-shaped crystals, fluttering down from the clouds like leaves from trees, refract moonbeams into rainbow-colored splashes of light 22o to the right and left of the Moon, as shown above.
Moondogs are most often seen on the nights around a full Moon. That means now is the time to look. The Moon is 100% illuminated on the night of Jan. 26-27, so be alert for moondogs!
Realtime Space Weather Photo Gallery
INCOMING COMET: In little more than a month, Comet PanSTARRS will cross the orbit of Mercury and probably brighten to naked-eye visibility as it absorbs the heat of the nearby sun. Sky watchers around the world will be looking for it in the sunset skies of early March, when it passes closest to the sun and to Earth. Until then a telescope is required; here is the view last night through a 0.3-meter-diameter reflector in Argentina: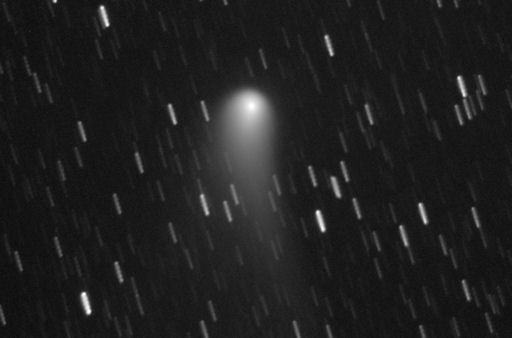 A team of astronomers led by Martin Masek took the picture using the remotely-controlled F(/Ph)otometric Robotic Atmospheric Monitor--"FRAM" for short. "The stars are trailed in this 9x120s exposure, which tracked the comet," explains Masel.
Currently, the comet ranks about 8th magnitude, dimmer than the human eye can see, but it could brighten 100-fold on March 10th when it makes its closest approach to the sun (0.3 AU). The latest curves suggest that PanSTARRS will emerge glowing about as brightly as a 3rd magnitude star, similar to the stars in the Big Dipper.
There might, however, be surprises in store. Comet PanSTARRS has never been to inner solar system before. It is falling in from the Oort cloud, a great swarm of comets beyond Neptune and Pluto unaltered by the warmth of the sun. When Comet PanSTARRS dips it toe inside the orbit of Mercury for the first time, almost anything could happen ranging from an anticlimatic "bake-out" to a spectacular disruption. Stay tuned for updates. [3D Orbit]
---
---
Realtime Noctilucent Cloud Photo Gallery
[previous years: 2003, 2004, 2005, 2006, 2007, 2008, 2009, 2011]