| | | |
| --- | --- | --- |
| NEW AND IMPROVED: Turn your iPhone or iPod into a field-tested global satellite tracker. The Satellite Flybys app now works in all countries. | | |
A MONTH OF SUNSPOTS: February 2010 is on the verge of a three-year "first." It's the first month since January 2007
with sunspots every single day. It's been a long solar minimum, but solar activity is on the rise again. Today, NASA's STEREO mission is tracking at least six active regions around the circumference of the sun. Check them out on the 3D Sun.
NORTHERN LIGHTS: On Feb. 25th, the hooting of owls drew Norwegian birdwatcher Fredrik Broms outdoors under a crispy, moonlit sky. "After having been really lucky to hear a Tengmalms owl, the auroras appeared behind the mountains." Using a Nikon D3, he recorded the scene: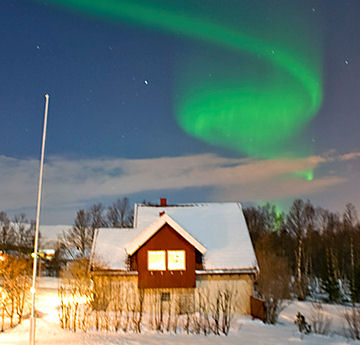 "The pictures I took--without a tripod and with very cold fingers--turned out a bit shaky, but the conclusion was as crystal clear as the sky itself - winter is beautiful!"
A few days from now, a solar wind stream is due to hit Earth, and that could spark a renewed display. High-latitude sky watchers should obey the owls on the nights around March 1st. Be alert for auroras!
February Northern Lights Gallery
[previous Februarys: 2009, 2008, 2007, 2006, 2004, 2003, 2002]
PURPLE HAZE: "I was work early yesterday, just before local sunrise, when I looked out the window," says Monika Landy-Gyebnar of Veszprem, Hungary. "What I saw made me wonder if someone had put something 'extra' in my coffee." The landscape was blanketed by an intense purple fog: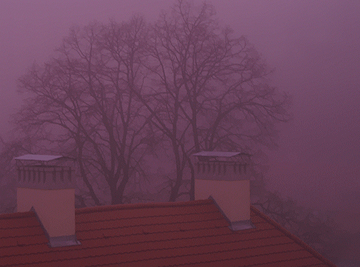 " I asked my colleague, who's not a coffee drinker, if he also saw the unbelievable color and he said 'yes.' I took some pictures and they also had the same color. So it was reality, not a psychedelic vision."
What caused this strange apparition?
It was the sunrise. "Using some weather webcams, I looked around the city and saw that other places without fog were also purple, pink and red," she continues. "Colorful sunrise rays were painting everything. The scattering of this light by tiny water droplets in the fog was truly wonderful!"
"Today's fog reminded me that the 43rd anniversary of Jimi Hendrix's Purple Haze is just around the corner. It was first released on March 17, 1967."
Purple haze all in my brain
Lately things just don't seem the same
Actin' funny, but I don't know why
'Scuse me while I kiss the sky
---