| | | |
| --- | --- | --- |
| NEW AND IMPROVED: Turn your iPhone or iPod Touch into a field-tested global satellite tracker. The Satellite Flybys app now works in all countries. | | |
FULL FLOWER MOON: There's a full Moon tonight and according to folklore it has a special name: the Flower Moon. In the northern hemisphere, spring flowers are abundant in May, and the full Moon illuminates them beautifully after sunset. Take a look!
AURORA ALERT: High-latitude sky watchers should be alert for auroras tonight. A coronal mass ejection (CME) is heading for Earth and it could spark geomagnetic storms when it arrives on May 27th or 28th. The following preview comes directly from the geographic South Pole: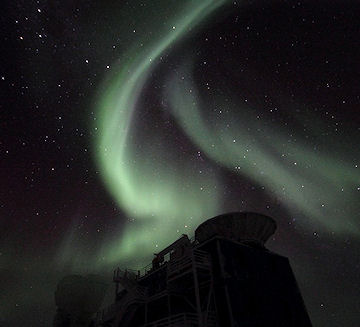 J. Dana Hrubes, who is wintering over at the pole as science leader of the Amundsen Scott Station, took the picture on May 20th. "It shows green and violet auroras swirling over the IceCube Neutrino Observatory," says Hrubes. When fully constructed, the NSF-sponsored observatory will use a cubic kilometer of south polar ice to catch and detect elusive neutrinos from distant black holes, supernovas and gamma-ray bursts. For now it makes nice foreground scenery for the Southern Lights.
May 2010 Aurora Gallery
[previous Mays: 2008, 2005, 2004, 2003, 2002] [aurora alerts]
X-37B FLARE: Last night, amateur astronomer Scott Ferguson witnessed an "X-37B flare." As the space plane glided across the night sky of Bradenton, Florida, "it brightened to be at least twice the brightness of Arcturus. I'd say it was about magnitude -0.8 at the peak of the flare," he reports. Sunlight must be occasionally glinting from a flat surface--perhaps the bottom or doors of the space plane's payload bay. Readers, turn your cell phone into a space plane tracker and be alert for flares.
SECRET SPACE PLANE: NASA's space shuttle program may be winding down, but the US Air Force's is just getting started. On April 22nd, the USAF launched an unmanned mini-shuttle from Cape Canaveral on a secret mission widely thought to involve reconnaissance. The X-37B can now be seen gliding through the night sky shining about as brightly as the stars of the Big Dipper. Last Sunday night, Gary O. photographed it streaking over the treetops of his home in Fort Davis, Texas: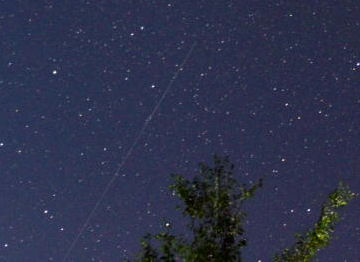 "This was my first chance to photograph the X-37B," says Gary. "It was easy to see. I estimate its magnitude at about +2.8."
The whereabouts of the X-37B were unknown until May 20th when amateur satellite watchers Greg Roberts of Cape Town, South Africa, and Kevin Fetter of Brockville, Canada, independently spotted it. Another satellite sleuth, Ted Molczan of Toronto, Canada, combined their observations to determine the space plane's orbit. With this information in hand, Fetter was able to find the X-37B again the next night; here it is on May 21st passing the 3rd-magnitude star Sadalsuud in Aquarius.
Ready to see for yourself? You can turn your iPhone into a secret shuttle tracker, or check our Simple Satellite Tracker for X-37B flyby times. Readers who photograph the X-37B are invited to submit images here.
more images: from Brent of Orlando, Florida; from Scott Ferguson of Bradenton, Florida