ISS TOOLBAG: NASA's runaway toolbag dropped from the International Space Station on Nov. 18th can be seen through binoculars as it orbits Earth. Europeans are favored with a series of flybys in the nights ahead. The backpack-sized bag is drifting away from the ISS and it now leads the station by about eight minutes. Check the Simple Satellite Tracker for flyby times.
THANKSGIVING SUN: This morning Greg Piepol of Rockville, Maryland, looked through the eyepiece of his backyard solar telescope and observed a very curious sunspot:
"Happy Thanksgiving!" says Piepol. "I must have been thinking about dinner because when I did a double-take the turkey was gone." The real Thanksgiving sun is pictured here. A new sunspot is forming near the center of the sun's disk but it has not yet formed a dark turkey-core. Stay tuned for updates.
more images: from Andy Yeung of Hong Kong; from Stephen Ames of Hodgenville, Kentucky
SUNSET PLANETS: When the sun sets tonight, go outside and look southwest. Venus and Jupiter are beautifully close together in the twilight sky. Konstantinos Christodoulopoulos sends this picture taken just hours ago from Athens, Greece: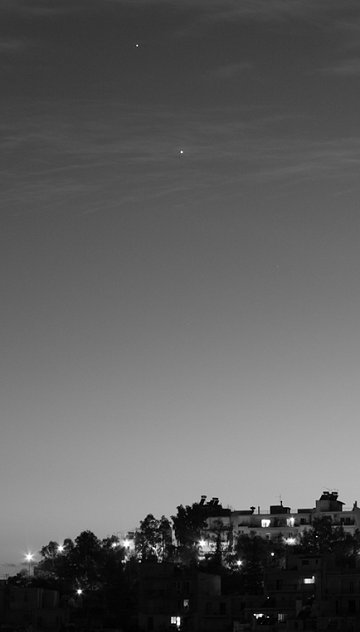 Photo details: Canon EOS 300D, 2 sec, ISO 200
Readers, if you think this is pretty, just wait. The two worlds are converging for a spectacular conjunction with the Moon on Dec. 1st. Some astronomers are calling it the "sky show of the year." Don't miss it! Sky maps: Nov. 27, 28, 29, 30, Dec 1.
more images: from P-M Hedén of Vallentuna, Sweden; from Martin Popek of Nýdek, Czech Republic; from Jim Saueressig of Burlington, Kansas; from Philip Harrington of Middle Island, New York; from Zlatko Pasko of Stara Pazova, Serbia; from Michel Hersen of Portland, Oregon; from Mark E. Peter of Ohio State University, Columbus, Ohio; from Brian Emfinger of Ozark, Arkansas;
---
UPDATED: Nov. 2008 Aurora Gallery
[Previous Novembers: 2007, 2006, 2004, 2003, 2001, 2000]