He already has a neck tie. This year give Dad something truly heavenly for Father's Day: SpaceWeather PHONE.

STORM WARNINGS: Astronauts can breathe a little easier. A scientist using the Solar and Heliospheric Observatory (SOHO) has found a way to predict dangerous solar radiation storms. The new alert system offers as much as one hour advance warning, giving astronauts on EVA extra time to seek shelter and avoid radiation sickness. Get the full story from Science@NASA.

MARS IS COMING: Mars has been gone for a while, far from Earth on the other side of the sun. Good news: It's coming back. On May 26th, Mike Salway of Central Coast, Australia, took this picture through his 12-inch telescope: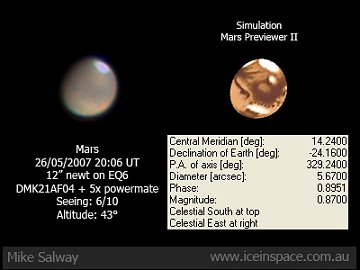 "Mars is only 5.7 arcseconds wide, but many details are visible," says Salway. Especially prominent is the southern polar cap of Mars. Made of frozen CO2 or "dry ice," it reflects more sunlight than any other part of the planet. Summer is coming to the south of Mars, and this will cause the polar cap to shrink and fragment in the months ahead--a process worth watching.
Every night the view improves. Mars and Earth are converging for a close encounter in December 2007. By that time, Mars will have swollen three times wider and ten times brighter than it is now. Want a sneak preview? Wake up before dawn, as Salway did, and point your telescope at that red, first-magnitude "star" rising just ahead of the sun: sky map.
IRIDESCENCE: Yesterday in Brazil, at the Curitiba Botanical Garden, photographer Mendonca Jr glanced up from the statuary and beheld a colorful iridescent cloud: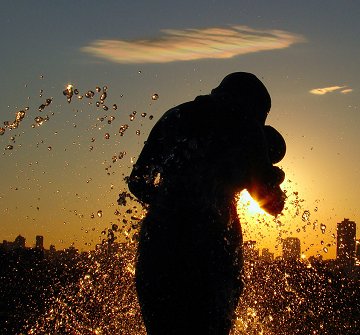 Photo details: Sony H-5, 200mm, ISO 100, 1/1000 sec.
"The silhouette below the cloud is not a real person, but a statue called the Mother," he explains. She is located at the center of a fountain--hence the splashing water.
There is water in the cloud, too. Tiny water droplets diffract sunlight, giving rise to the cloud's soft pink and green colors. The key word is tiny. For diffraction to work properly, the cloud's droplets must be about 1000 times smaller than the ponderous drops we see splashing around the statue. Tiny droplets, big droplets. Altogether, "it was a lovely scene," he says.