| | | |
| --- | --- | --- |
| Thirty-five new items have just been added to our Meteorite Jewelry collection. Browse the Space Weather Store for something out of this world. | | |
CHANCE OF FLARES: Sunspot 1512 has a 'beta-gamma' magnetic field that harbors energy for M-class solar flares. NOAA forecasters estimate a 25% chance of such an eruption during the next 24 hours.
X THREE MILLION: On the Richter Scale of Solar Flares, X3 is considered to be a big explosion. How about X3 million? NASA's Hubble Space Telescope has seen what happens when a planet gets hit by such a flare. This artist's concept, released today by the space agency, illustrates the impact of an X3000000-class stellar flare on exoplanet HD 189733b: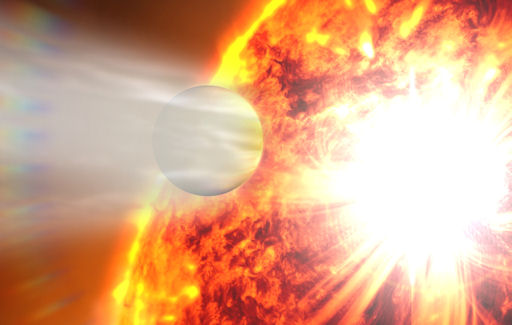 The flare, detected by NASA's Swift satellite, scorched the top of the planet's atmosphere with a powerful blast of ultraviolet radiation and X-rays. Hours later, Hubble detected more than 1,000 tons of gas every second flying away at 300,000 mph. HD 189733b is a gas giant about 14% more massive than Jupiter, so it hardly misses the atmosphere it lost. Millions of years of these flares, however, will eventually make a dent even in such a massive world. So the next time there's an X-flare here in the solar system, just remember, it could be worse.
MORNING SKY SHOW: Set your alarm for dawn. Venus and Jupiter are converging in the morning sky, setting the stage for a beautiful three-way conjunction with the crescent Moon in July. This morning, Giuseppe Petricca photographed the bright planets shining in the east over Pisa, Italy: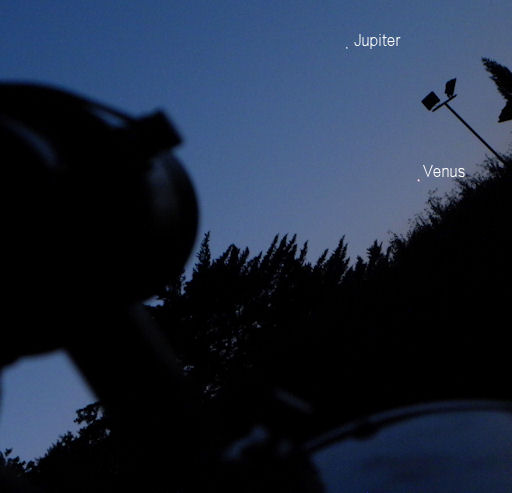 "What a wonderful morning," says Petricca. "Jupiter appeared first, bright and low on the horizon. Through the telescope we could clearly see bands on the planet. Venus arrived shortly thereafter."
Here are some key dates in July:
On July 4th, Venus will pass dead-center through the Hyades cluster, a loose grouping of stars 153 light years from Earth. The temporary addition of Venus will make it seem that a supernova has gone off in the cluster.
Three mornings later, on July 7th, Venus and Jupiter line up with Aldebaran, the bright red eye of Taurus the Bull. Aldebaran is a red giant star of first magnitude. Together with the two planets, it forms an almost perfect vertical line in the brightening dawn sky.
On July 9th, Venus and Aldebaran converge to form a planet-star pair of surpassing beauty. Scarcely more than a degree of arc will separate the two celestial bodies as Jupiter looks down from overhead.
And then, on July 15th, a 12% crescent Moon joins the show, forming a bright celestial triangle with Venus and Jupiter.
Meanwhile, browse our Realtime Photo Gallery for more planet-shots.
---
Realtime Noctilucent Cloud Photo Gallery
[previous years: 2003, 2004, 2005, 2006, 2007, 2008, 2009, 2011]