TRIPLE FLYBYS: Space shuttle Endeavour has undocked from the International Space Station in preparation for a July 31st return to Earth. Meanwhile, a Russian supply ship, the Progress 34, is approaching the ISS. This sets the stage for a rare set of triple flybys. People who see the space station in the night sky tonight could witness three spaceships (two bright and one dim) in triangular formation. Check the Simple Satellite Tracker to find out when to look.
SPACE STATION SILHOUETTE: It happened in a split second. On July 26th, the International Space Station (ISS) flew in front of the sun over Orleans, France, where astrophotographer Thierry Legault was waiting. He couldn't see the 0.8s transit with the unaided eye, but his telescope and digital camera captured this image: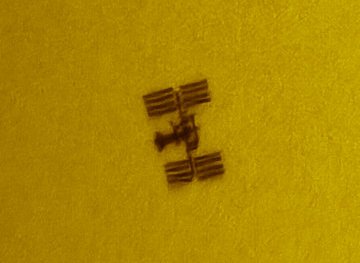 Photo details: Canon 5D MkII, Takahashi TOA-150 refractor, Herschel prism, 1/8000s
"The silhouette shows space shuttle Endeavour docked to the ISS," he says. "The shuttle's payload bay arm is visible, too."
Legault has taken many pictures of spaceships passing in front of the sun. When he stands beside the telescope at the moment of transit, listening to the camera click, there is no assurance of a good shot. "I never know if the ship will be visible or not, or if the seeing will give good or bad images. The discovery of the silhouette on the computer screen later is the moment I prefer and is a great pleasure."
The ISS will be transiting the French sun again, perhaps several times, in the weeks ahead, says Legault. Stay tuned for snapshots.
JUPITER'S IMPACT CLOUD EXPANDS: Jupiter's impact cloud is expanding. On July 19th, when it was discovered by amateur astronomer Anthony Wesley, the dark mark near Jupiter's south pole was barely visible in backyard telescopes. Five days later Wesley photographed the impact cloud again and found that it had approximately tripled in size: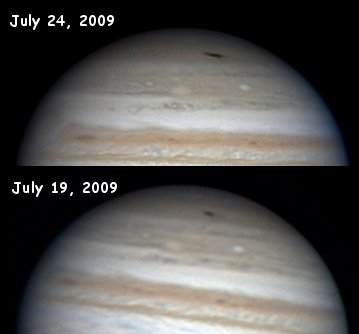 High-resolution images from the Hubble Space Telescope reveal what's happening: turbulence and jet streams in Jupiter's atmosphere are causing the cloud to spread out. The vast impact site is now tens of thousands of times wider than the 100m-class comet or asteroid that created it.
The expansion of the cloud makes it easier than ever to see through a backyard telescope: sky map. The cloud is located near Jupiter's System II longitude 210°. For the predicted times when it will cross the planet's central meridian, add 2 hours and 6 minutes to Sky and Telescope's predicted transit times for Jupiter's Great Red Spot.
more images: from Mike Hood of Kathleen, Georgia; from Didier Favre of Brétigny-sur-orge, France; from Enzo De Bernardini of Martínez, Buenos Aires, Argentina; from Sadegh Ghomizadeh of Iran Tehran; from David Kolb of Lawrence, Kansas;
---
July 2009 Aurora Gallery
[previous Julys: 2008, 2007, 2006, 2005, 2004, 2003]
---
2009 Noctilucent Photo Gallery
[previous years: 2008, 2007, 2006, 2005, 2004, 2003]
---
July 22nd Eclipse Gallery
[previous eclipses: Jan 26, 2009; Aug. 1, 2008; Mar. 19, 2007]
---