| | | |
| --- | --- | --- |
| SATELLITE FLYBYS APP: Turn your iPhone or iPod into a field-tested satellite tracker! Spaceweather.com presents the Satellite Flybys app. | | |
TERRESTRIAL GAMMA-RAY FLASHES: There's a mystery in the skies of Earth. Something is producing bright flashes of gamma radiation in the upper atmosphere of our own planet. A spacecraft called 'Firefly' is going to investigate: full story.
BIGGEST FULL MOON OF THE YEAR: If you think tonight's Moon looks unusually big, you're right. It's the biggest full Moon of 2010. Astronomers call it a "perigee Moon," some 14% wider and 30% brighter than lesser full Moons of the year. (continued below)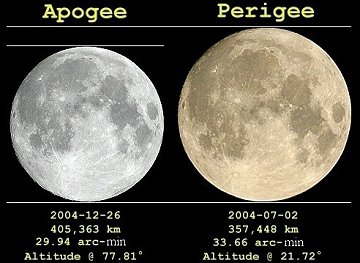 Image credit and copyright: Anthony Ayiomamitis: details.
Johannes Kepler explained the phenomenon 400 years ago. The Moon's orbit around Earth is not a circle but an ellipse, with one side 50,000 km closer to Earth than the other. Astronomers call the point of closest approach "perigee," and that is where the Moon will be Friday night through Saturday morning: diagram.
A good time to look is around sunset when the Moon is near the eastern horizon. At that time, illusion mixes with reality to produce a truly stunning view. For reasons not fully understood by psychologists, low-hanging Moons look unnaturally large when they beam through foreground objects such as buildings and trees. Why not let the "Moon illusion" amplify a full Moon that's extra-big to begin with? The swollen orb rising in the east may seem close enough to touch.
And what's that bright orange star right beside the Moon? Read on...
IT'S MARS! In a coincidence of celestial proportions, the Moon and Mars are having close encounters with Earth at the same time. Moreover, the two will spend Friday night gliding across the sky side-by-side. It's a must-see event: sky map.
Readers with backyard telescopes should train their optics on Mars. It looks bigger through a telescope now than at any time between 2008 and 2014. Pete Lawrence of Selsey, UK, photographed the Red Planet on Jan. 26th using his 14-inch Celestron: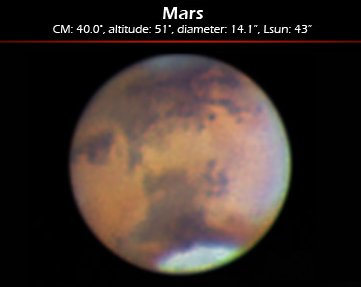 "I photographed Mars at 10 minute intervals for more than three hours," says Lawrence. "Here is the animation. It shows a lot of surface markings including the dramatic 'Eye of Mars,' Solis Lacus."
more images: from Efrain Morales Rivera of Aguadilla, Puerto Rico; from Paolo Lazzarotti of Massa, Tuscany, Italy; from Glenn Jolly of Gilbert, Arizona; from Brian Combs of Buena Vista, Georgia; from George Tarsoudis of Alexandroupolis, Greeece; from Alan Friedman of Buffalo, New York; from Mike Hood of Kathleen, Georgia; from Jacob Bassøe of Copenhegen, Denmark; from Sadegh Ghomizadeh of Tehran, Iran;
---
January Northern Lights Gallery
[previous Januarys: 2009, 2008, 2007, 2005, 2004, 2001]