He already has a neck tie. This year give Dad something truly heavenly for Father's Day: SpaceWeather PHONE.

BLUE MOON: This Thursday evening, the Moon over North America will become full for the second time in the month of May. According to folklore, that makes it a Blue Moon. But will it really be blue? Believe it or not, blue-colored Moons are possible. Get the full story from Science@NASA.

A DAY AT THE BEACH: New sunspot 958 is not very large but it has a marvelous white beach. Pete Lawrence sends this picture from his backyard in Selsey, UK: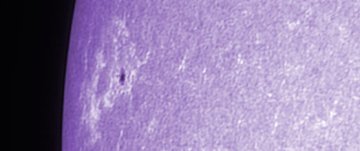 Astronomers call the phenomenon plage--French for beach. Plage is not sand but a bright, hot magnetic froth that surrounds many sunspots. It shows up particularly clearly in solar telescopes tuned to the purple glow of ionized calcium. Lawrence used a Calcium-K Personal Solar Telescope to obtain the photo above.
more images: from Cai-Uso Wohler of Bispingen, Germany.
FIND THE MOON: On May 23rd, when photographer Guillaume Bertrand looked at the sky over Saint Laurent sur Sèvre, France, he was transported thousands of light years away. "The scene reminded me of a star-forming region in the Small Magellanic Cloud," he says. (continued below)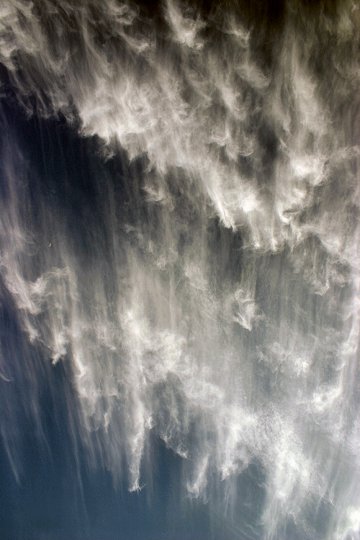 Photo details: Canon 300D
But when he took the picture and examined it closely, he found no stars--only the Moon! "Can you find it?" he asks. Click here to search.
When you locate the Moon, note how its surface brightness compares favorably to that of bright white clouds. That's why, contrary to popular belief, the Moon is so easy to see during the day.
more images: from Jerry Chab of Falls City, Nebraska; from Pete Lawrence of Selsey, West Sussex, UK; from Günther Strauch of Borken, NRW, Germay; from Anthony Ayiomamitis of Athens, Greece; from Ralph Nevins of Ottawa, Ontario;