SPACE WEATHER MICROSATS: Space shuttle Endeavour returns to Earth tomorrow, July 31st, completing a successful construction mission to the ISS, but first there is one more chore to do. Today, the shuttle's crew will release Castor and Pollux, a pair of 19-inch spherical satellites. The twin microsats will circle Earth for approximately one year, working together to reveal how geomagnetic storms degrade the orbits of satellites. NASA has the full story.
CHANGES ON JUPITER: "On July 30, it is evident that there is rapid evolution of Jupiter's impact debris cloud," reports amateur astronomer Raffaello Lena of Rome, Italy. "It is becoming very elongated." A polar projection shows the extent of the debris: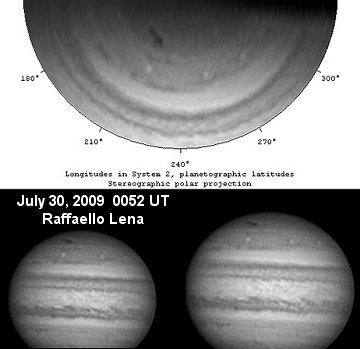 The changes are caused by turbulence and especially high-altitude winds in Jupiter's atmosphere. Polar winds blowing 25 m/s and faster could stretch the cloud all the way around Jupiter's south pole in the weeks ahead. Whether such a stretched-out cloud will be visible in small telescopes remains to be seen.
Amateur astronomers are encouraged to continue monitoring. The cloud is located near Jupiter's System II longitude 210°. For the predicted times when it will cross the planet's central meridian, add 2 hours and 6 minutes to Sky and Telescope's predicted transit times for Jupiter's Great Red Spot. [sky map]
more images: from Giovanni Coltro of Pesaro, Italy; from Romulo Liporaci of Maracaibo, Venezuela; from Sid Leach of Scottsdale, Arizona; from Tamas Ladanyi of Bakonykoppany, Hungary; from Efrain Morales Rivera of Aguadilla, Puerto Rico; from Andreas Murner of Lake Chiemsee, Bavaria, Germany; from John Chumack of Dayton, Ohio USA
LUNAR TRANSITS: Catching a spaceship flying in front of the Moon is a rare trick. Yesterday, Roman Piffl of Bratislava, Slovakia, caught two:
"First, space shuttle Endeavour transited the Moon, followed a hundred seconds later by the International Space Station," says Piffl. Each crossing lasted no more than a fraction of a second, "but we were able to capture them using a DMK21 video camera at 60 fps." Piffl was assisted by fellow astronomers Tomáš Maruška and Miroslav Grnja.
Endeavour and the ISS will be in orbit together for just one more day. Check the Simple Satellite Tracker for last-chance flybys.
more images: from Fox Keri of Marion, Massachusetts; from Todd Hahn of Sugar Land, Texas; from Jonathan Sabin of Ellenton, Florida; from Michael Prokosch of Huntsville, Texas
---
July 2009 Aurora Gallery
[previous Julys: 2008, 2007, 2006, 2005, 2004, 2003]
---
2009 Noctilucent Photo Gallery
[previous years: 2008, 2007, 2006, 2005, 2004, 2003]
---
July 22nd Eclipse Gallery
[previous eclipses: Jan 26, 2009; Aug. 1, 2008; Mar. 19, 2007]
---