| | | |
| --- | --- | --- |
| NEW AND IMPROVED: Turn your iPhone or iPod Touch into a field-tested global satellite tracker. The Satellite Flybys app now works in all countries. | | |
SUNSET PLANETS: The Solar System's innermost planets are about to put on a beautiful show. This week, Mercury is emerging from the glare of the sun and making a beeline for Venus. By week's end the two planets will be just 3o apart, a bright and eye-catching pair. Keep an eye on the sunset! Sky maps: April 1, 2, 3, 4, 5.
AURORA WATCH: On March 27th, Dave Sundberg was flying a C-130 Hercules across northern Canada (between Yellowknife NWT and Baker Lake, Nunavut) when he looked out the window and saw this: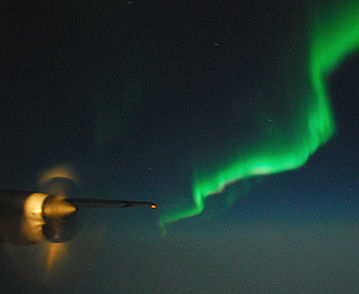 "The auroras were so bright, they were visible even with the cockpit storm lights on," he reports. "I darkened the cockpit, pulled out my Nikon D80 and snapped a few pictures."
Next week, dimming the lights might not be necessary. An even stronger display is expected on April 5th or 6th. That's when a solar wind stream flowing from a hole in the sun's atmosphere (a "coronal hole") is expected to hit Earth. High-latitude sky watchers--especially Canadian pilots--should be alert for auroras.
March Northern Lights Gallery
[previous Marches: 2009, 2008, 2007, 2006, 2005, 2004, 2003]
LENTICULAR LIGHTS: Yesterday, a storm in the Sierra Nevada mountains of central California decorated the sky with wind-sculpted lenticular clouds. When photographer Andrew Kirk stepped outside to observe, he got more than he bargained for: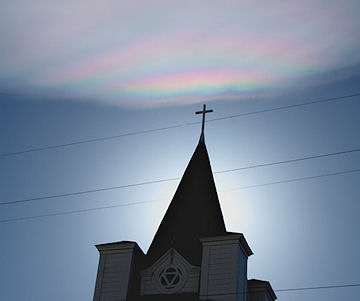 "With a high wind warning posted for the area, lenticular clouds were no surprise," says Kirk. "But the beautiful iridescence late in the afternoon was a special gift." He positioned a local church between his camera and the sun to reduce the glare and highlight the phenomenon.
Iridescence is caused by sunlight diffracting through water droplets. Lenticular clouds are a good place for this to happen because the clouds are filled with tiny droplets of nearly uniform size--a combination that produces vivid pastel colors.