| | | |
| --- | --- | --- |
| Listen to radar echoes from satellites and meteors, live on listener-supported Space Weather Radio. | | |
MINOR CME IMPACT: A coronal mass ejection hit Earth's magnetic field on May 31st at approximately 1600 UT, but the impact was weak. Solar wind speeds ticked upward only a small amount from 350 km/s to 400 km/s. Minor geomagnetic disturbances are possible in the hours ahead. Aurora alerts: text, voice.
BINARY ASTEROID FLYBY: Massive asteroid 1998 QE2 is flying past the Earth-Moon system today. Closest approach occurs at 1:59 p.m. Pacific (4:59 p.m. Eastern / 20:59 UTC), when the asteroid will be 5.8 million kilometers from Earth. Newly-obtained radar images show that 1998 QE2 is a binary system. The 2.7 km wide primary is circled by a smaller 600 meter satellite. Get the full story from Science@NASA
NOCTILUCENT CLOUDS: Last night, sky watchers across northern Europe witnessed a vivid display of noctilucent ("night-shining") clouds. On May 30th, luminous electric-blue tendrils lingered for hours after sunset, disappeared for a while, then re-appeared before dawn on May 31st. M. J. S. Ferrier photographed the apparition from Barassie Beach in Troon, Scotland: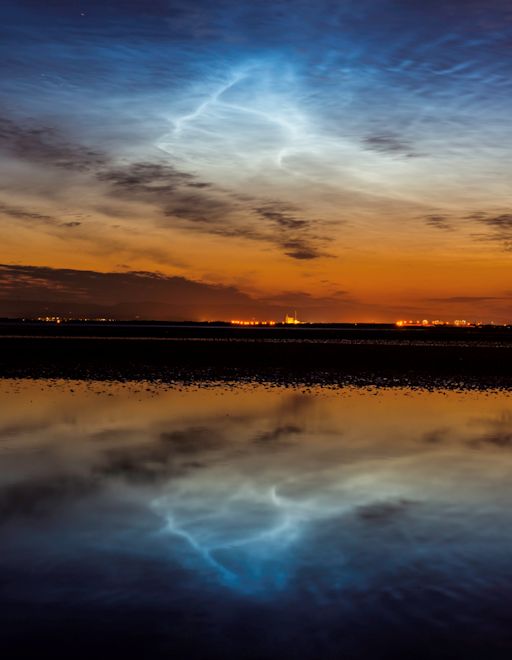 Noctilucent clouds (NLCs) form near the top of Earth's polar atmosphere when water vapor from the planet below mixes with meteor debris from space. They appear during summer because that is when the mesosphere is coldest and most humid. This year, NLCs appeared early, more than a full month before the solstice, setting the stage for an unusually good NLC-watching season.
High latitude sky watchers should be alert for NLCs in the evenings ahead. IN recent years they have been sighted as far south as Utah, Colorado, and Nebraska. Observing tips: Look west 30 to 60 minutes after sunset when the sun has dipped 6o to 16o below the horizon. If you see luminous blue-white tendrils spreading across the sky, you've probably spotted a noctilucent cloud.
Realtime Noctilucent Cloud Photo Gallery
[previous years: 2003, 2004, 2005, 2006, 2007, 2008, 2009, 2011]
MAGNIFICENT COMET TAIL: This week, Earth passed through the orbital plane of Comet Pan-Starrs. This allowed observers to see the comet's fan-shaped tail edge on. Veteran astrophotographer Chris Schur of Payson, Arizona, judged it "the finest long anti-tail we have ever imaged in the past 35 years of comet photography!" This picture, taken by Pete Lawrence of Selsey UK, shows less than half of the comet's tail; click on the image to see the rest: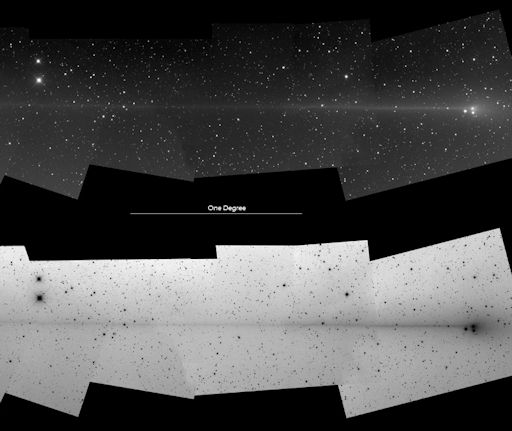 "Wow - as Earth crossed the orbital plane of comet C/2011 L4 PANSTARRS, the comet's orbital plane spike or 'anti-tail' became very impressive, stretching for more than 7 degrees across the sky," says Lawrence.
The narrow linear structure is called an anti-tail because it points toward the sun, opposite the usual direction of comet tails. In fact, this is an artifact of the viewing geometry. Gas and dust evaporating from the comet is not being sucked back toward the sun.
Amateur astronomers with mid-sized backyard telescopes can see the anti-tail for themselves. Comet Pan-Starrs is shining like a 9th magnitude star not far from Polaris, the North Star. More: NASA video, 3D orbit, ephemeris, light curves.
CORONAL HOLE: A hole in the sun's atmosphere--a "coronal hole"--has opened up and it is spewing solar wind into space. NASA's Solar Dynamics Observatory photographed the UV-dark gap during the early hours of May 29th: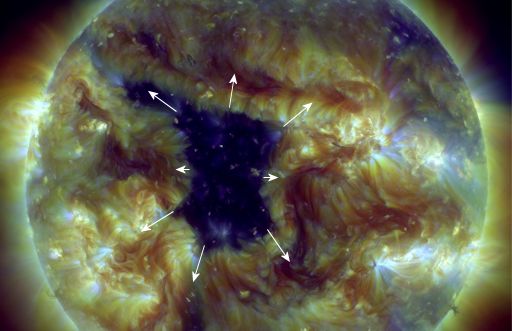 Coronal holes are places where the sun's magnetic field spreads apart and allows solar wind to escape. A windy stream of plasma flowing from this particular hole should reach Earth on June 2-3. The impact could spark geomagnetic storms and auroras around the poles. Aurora alerts: text, voice.
Realtime Space Weather Photo Gallery
---
---