| | | |
| --- | --- | --- |
| They came from outer space--and you can have one! Genuine meteorites are now on sale in the Space Weather Store. | | |
INCOMING CME: A coronal mass ejection (CME, movie) is expected to hit Earth's magnetic field on Sept. 1st, sparking minor to moderate geomagnetic storms around the poles. The CME was propelled toward Earth by a C8-class flare from sunspot AR1836 on August 30th. High-latitude sky watchers, be alert for auroras! Aurora alerts: text, voice.
SWx EXPERIMENT IN RIPLEY'S BELIEVE IT OR NOT: In March 2012, a group of high school students in Bishop, California, used a helium balloon to launch a pair of medical radiation badges to the edge of space. The goal of their experiment was to measure high-altitude radiation levels during a solar proton storm, which was underway at the time of the flight. Usually such experiments are published in academic journals, but this time Ripley's Believe it or Not! took took an interest. Why? Because the students pinned the radiation badges to a rubber chicken: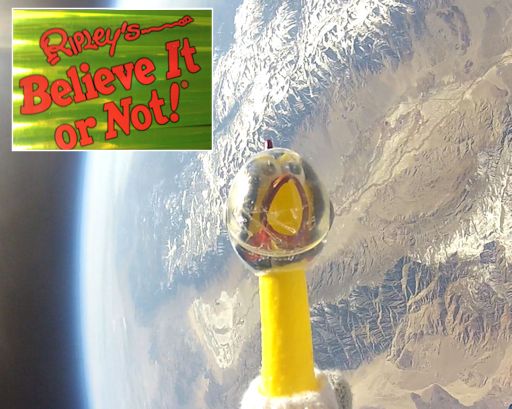 Camilla the Rubber Chicken, formerly of NASA, crewed the suborbital capsule and wore the radiation badges on a hand-knit spacesuit. She reached an altitude of 128,000 feet, withstanding temperatures as low as -63o C and air pressures as little as 1% sea level during the nearly three hour flight. More information about the flight may be found on page 235 of Dare to Look!, Ripley's latest hardbound volume available from RipleyBooks.com. (Note: The same picture was selected by Time magazine as one of the most surprising photos of 2012.)
The students, who call themselves Earth to Sky Calculus, are still doing space weather research. Recent and ongoing experiments include payloads to measure the effect of solar flares on the ozone layer and to assess the ability of microbes to withstand radiation storms. You can follow their activities on Facebook and Twitter.
Realtime Space Weather Photo Gallery
MAJOR FIREBALL EVENT, UPGRADED (AGAIN): NASA's Meteoroid Environment Office has upgraded its estimates of a major fireball that exploded over the southeastern USA around 2:30 AM on August 28th. Lead researcher Bill Cooke says "the fireball reached a peak apparent magnitude of -16, about 20 times brighter than a Full Moon, and cast shadows on the ground. This indicates that the meteoroid had a mass of more than 110 kg (240 lbs) and was up to a meter in diameter. It hit the top of Earth's atmosphere traveling 25 km/s (56,000 mph)." Watch the movie, then read more about the fireball below: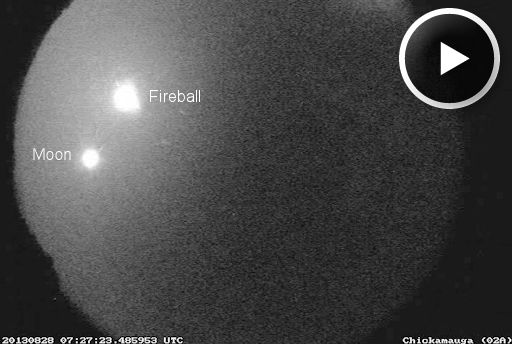 "This is the brightest event our network has observed in 5 years of operation," he continues. "There are reports of sonic booms reaching the ground, and data from 4 doppler radars indicate that some meteorites may have fallen along the fireball's ground track." (Note: The city in the ground track map is Cleveland, Tennessee, not Cleveland, Ohio.)
An initial calculation of the fireball's orbit suggested it might be a fragment from a Jupiter family comet. Improved estimates of the orbital parameters point to a different kind of object: a main belt asteroid. If meteorites are recovered from the Tennessee countryside, their chemical composition will tell researchers more about the origin of the fireball.
SPACE WEATHER RADIO UPDATE: As a result of indiscriminate "sequester" budget cuts, the USAF Space Surveillance Radar will be shut down at the end of September. Readers have asked what this means for Space Weather Radio. For years we have broadcast Space Surveillance Radar echoes from meteors passing over the facility. Anticipating the shutdown, our radio engineer Stan Nelson is changing frequencies. "I have erected a new 50 MHz 4-element beam antenna for the Digital TV carrier of 54.310 MHz and have it feeding the receiver at SpaceWeatherRadio.com," he explains. The echoes we hear now will be TV signals bouncing off the ionized trails of meteors. "I will be experimenting with the direction and signal strength over the next couple of days, so stay tuned."
Realtime Space Weather Photo Gallery
---
---
Realtime Noctilucent Cloud Photo Gallery
[previous years: 2003, 2004, 2005, 2006, 2007, 2008, 2009, 2011]
---