Autumn is here, and it's a wonderful time for stargazing. Find out what's up from Spaceweather PHONE.
SPOOKY ASTRONOMY: Halloween is a date of astronomical interest: it's a cross-quarter date, midway between an equinox and a solstice. There are four cross-quarter dates throughout the year, and each is a minor holiday. One is Groundhog Day (Feb. 2nd), another is May Day (May 1st), the third is Lammas Day (Aug. 1st), and the fourth ... ? Happy Halloween!
SUNSPOT 921: One movie is worth a thousand words:


A SOHO animation of sunspot 921. Oct 30-31, 2006.
Sunspot 921 appeared on the scene less than two days ago as a dark and tiny speck. Suddenly it's ballooning into a planet-sized active region capable of significant flares. Stay tuned for updates.
WITCH'S HAIR: Yesterday, artist Mark Seibold of Troutdale, Oregon, looked through the eyepiece of his SolarMax40 and saw two prominences on the Sun: "The northern prominence reminded me of a ghostly roadrunner," says Seibold, "while the southern prominence looked more like witch's hair torn by wind." (continued below)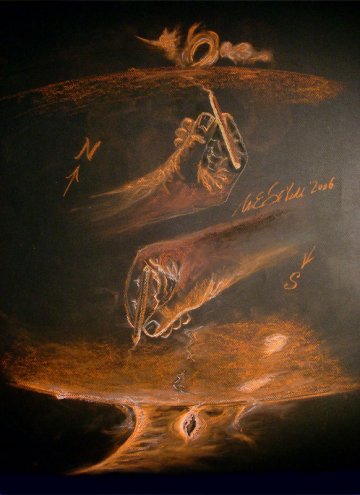 A pastel sketch by Mark Siebold. Oct. 30, 2006.
After he began his sketch, "a dark gaping hole opened midway in the twisting-changing southern prominence as if inviting me in. Oh, the spooky sight of space."
Another opportunity for sketching is just around the corner, on Nov. 8th, when Mercury crosses the face of the Sun. The transit will be widely visible from the Americas, Hawaii and all around the Pacific Rim. Sharpen your pastels!