Where's Saturn? Is that a UFO--or the ISS? What's the name of that star? Get the answers from mySKY--a fun new astronomy helper from Meade.

AURORA ALERT: A solar wind stream flowing from a coronal hole (see below) is buffeting Earth's magnetic field and this is causing mild geomagnetic storms. Colorful auroras are dancing over parts of Scandinavia right now: photos. If you live at high latitudes, keep an eye on the sky.

ASTEROID FLYBY: Newly-discovered asteroid 2008 AF3 flys past Earth today only one lunar distance (240,000 miles) away. The space rock is about 27 meters wide (half the size of the International Space Station) and glows like a 14th magnitude star. Experienced amateur astronomers with mid-sized telescopes may be able to photograph it gliding through Ursa Major. [ephemeris] [3D orbit]

CORONAL HOLE: Japan's Hinode spacecraft is monitoring a yawning dark hole in the sun's atmosphere, a coronal hole: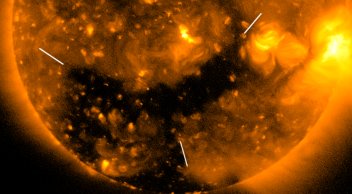 Image credit: Hinode X-ray Telescope. Jan. 12, 2008
Coronal holes are vast regions where the sun's magnetic field opens up and allows solar wind to escape. A million mile-per-hour wind stream is spewing from this coronal hole and heading toward Earth. High-latitude sky watchers should be alert for auroras when it arrives possibly as early as tonight.
NO TELESCOPE REQUIRED: Long-fading Comet 17P/Holmes is still visible to the naked eye. Toni Scarmato sends this photo from Calabria, Italy. "I estimate its visual magnitude to be +3.5." This means the comet is easy to see from the dark countryside (look straight up after sunset) but a challenge from cities.
On Jan. 11th, P-M Hedén visited a 1000-year-old Viking church near Vallentuna, Sweden, and found the pointed roof leading his gaze straight up to Holmes: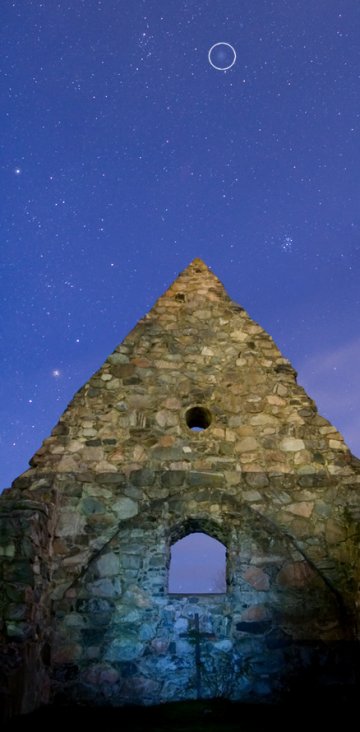 "Standing inside that church, looking up into the sky to see the stars, planets and a comet felt really special," he says. The photo required no telescope, just an off-the-shelf Canon Digital Rebel XT.
Comet 17P/Holmes Photo Gallery
[World Map of Comet Sightings]
[sky map] [comet binoculars] [ephemeris] [3D orbit]