| | | |
| --- | --- | --- |
| Thirty-five new items have just been added to our Meteorite Jewelry collection. Browse the Space Weather Store for something out of this world. | | |
QUIET SUN: With no sunspots actively flaring, solar activity continues to be low. NOAA forecasters estimate a slim 5% chance of M-flares and a 1% chance of X-flares during the next 24 hours. Solar flare alerts: text, voice.
DEEP SKY AURORAS: Just because you can't see the Northern Lights doesn't mean they're not there. Last night in Babbitt, Minnesota, photographer Heidi Pinkerton pointed her camera at the sky to record the Milky Way and found band of green under the arch of stars: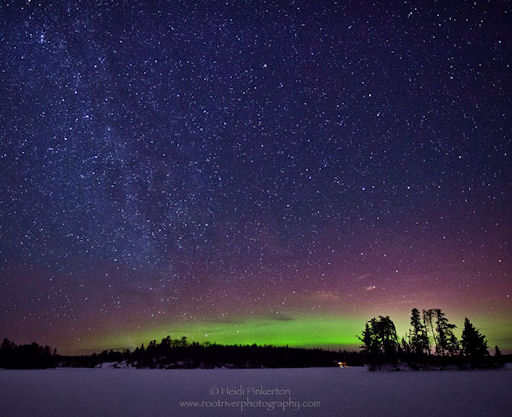 "The temperature was -24˚F," she says. "[Staying outside for a long-exposure deep-sky photo was a little uncomfortable, but the results were worth it.]"
These faint auroras, visible to the camera but not to the naked eye, were sparked by a medium-speed (425 km/s) solar wind stream, which is gently buffeting Earth's magnetic field. NOAA forecasters estimate a 10% chance of polar geomagnetic storms tonight, but the odds improve to 35% later this weekend when a faster stream of solar wind is due to arrive. Aurora alerts: text, voice.
Realtime Space Weather Photo Gallery
COMET LEMMON UPDATE: Glowing much brighter than expected, Comet Lemmon (C/2012 F6) is gliding through the skies of the southern hemisphere about 92 million miles (0.99 AU) from Earth. Amateur astronomer Rolf Wahl Olsen sends this picture from his backyard in Auckland, New Zealand: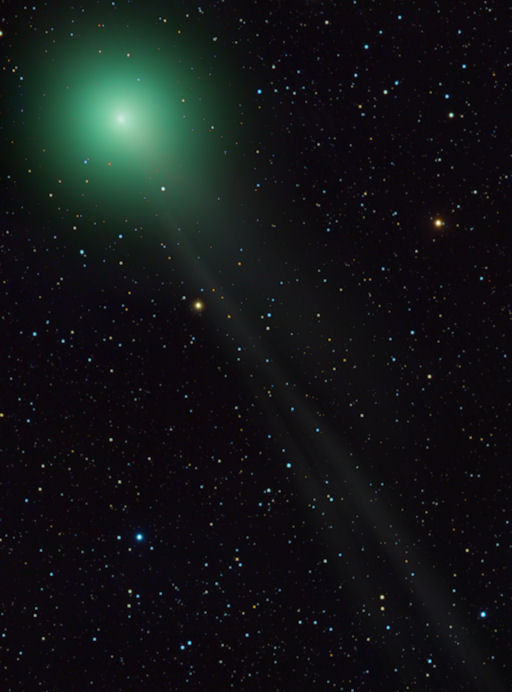 "I took this image of Comet Lemmon on the 28th of January," says Olsen. "It has become quite bright now and has also grown a beautiful tail."
Discovered on March 23rd 2012 by the Mount Lemmon survey in Arizona, Comet Lemmon is on an elliptical orbit with a period of almost 11,000 years. This is its first visit to the inner solar system in a very long time. The comet is brightening as it approaches the sun; light curves suggest that it will reach 2nd or 3rd magnitude, similar to the stars in the Big Dipper, in late March when it approaches the sun at about the same distance as Venus (0.7 AU).
At the moment, the comet is glowing like a 7th magnitude star, just below the limit of naked-eye visibility. To capture the faint details of the comet's filamentary tail, Olsen used a 10-inch telescope, a sensitive CCD camera, and an exposure time of 1 hour 17 minutes. Complete photo details are given here.
Lemmon's green color comes from the gases that make up its coma. Jets spewing from the comet's nucleus contain cyanogen (CN: a poisonous gas found in many comets) and diatomic carbon (C2). Both substances glow green when illuminated by sunlight in the near-vacuum of space.
Northern hemisphere observers will get their first good look at the comet in early April; until then it is a target exclusively for astronomers in the southern hemisphere.
---
---
Realtime Space Weather Photo Gallery
---
Realtime Noctilucent Cloud Photo Gallery
[previous years: 2003, 2004, 2005, 2006, 2007, 2008, 2009, 2011]