| | | |
| --- | --- | --- |
| Listen to radar echoes from satellites and meteors, live on listener-supported Space Weather Radio. | | |
SOLAR ACTIVITY MISSES EARTH: Sunspot AR1692 is crackling with C- and M-class solar flares. However, all of the eruptions are missing Earth because of the sunspot's off-center location on the sun's NW limb. Earth-directed flares are unlikely during the next 24 hours. Solar flare alerts: text, voice.
THE BRIGHTNESS OF COMET PAN-STARRS: Comet Pan-STARRS is receding from the sun and dimming as it goes, yet sky watchers are seeing it better than ever as it moves into darker skies. How bright is it? University of Colorado atmospheric sciences professor Richard Keen, an expert estimator of astronomical magnitudes because of his work with lunar eclipses, has the answer:
"My best estimate for the comet's brightness is magnitude +1.9, a factor of five fainter than five days earlier," he says. "However, thanks to the increasing altitude of the comet in a somewhat darker sky, it is still just as easy to see with the naked eye - actually, a bit easier, because it's no longer buried in the trees." He had no trouble finding the comet for this picture looking over the Continental Divide on March 19th: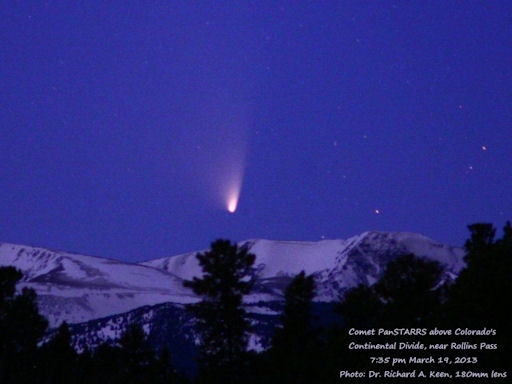 "The comet is easy to spot in the clear high-altitude skies of Colorado," Keen continues. "It appears to the unaided eye in the twilight sky as a slightly fuzzy star. Observers in more humid or hazier climates still might need binoculars to locate the comet."
"PanSTARRS will likely fade another magnitude or two over the next week as the moon brightens towards full on the night of the 26th," he predicts. "Then, on the 28th of March, the moon will rise a couple of hours after sunset, and the comet will become visible in a dark sky for the first time (for Northern observers). I expect it will still be of naked-eye brightness."
More: NASA video, 3D orbit, ephemeris, light curves.
FIRST AURORAS OF NORTHERN SPRING: It is a well known scientific fact that equinoxes favor auroras. At this time of year, the slightest gust of solar wind can provoke bright lights around the poles. The phenomenon was in full effect Wednesday night in Sweden's Abisko National Park: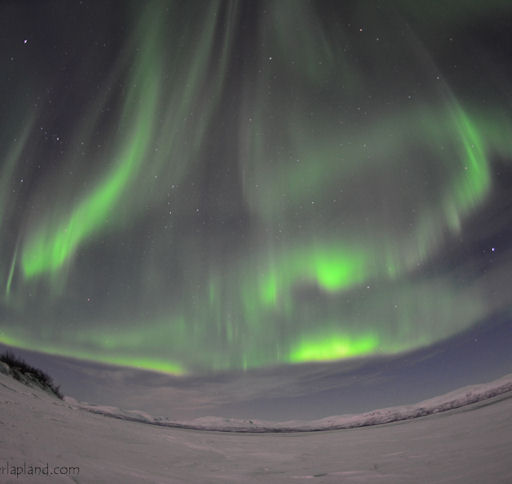 "Springtime IS aurora season here in Abisko," reports photographer and aurora tour guide Chad Blakley. "As the nights get shorter it seems like the auroras get more intense and their colours become more vivid. If we are lucky we have two more weeks of amazing aurora displays before the sun overpowers the northern lights."
"I also made a time-lapse video of the display and I was lucky enough to capture comet Pan-STARRS with the lights dancing overhead," he adds. "You can see the film here." Aurora alerts: text, voice.
---
Realtime Space Weather Photo Gallery
---
Realtime Noctilucent Cloud Photo Gallery
[previous years: 2003, 2004, 2005, 2006, 2007, 2008, 2009, 2011]