| | | |
| --- | --- | --- |
| AURORA ALERTS: Did you miss the Northern Lights of June 25th? Next time get a wake-up call from Space Weather PHONE. | | |
SUNSET SKY SHOW: Tonight, after sunset, go outside and look west. Red Mars and 1st-magnitude star Regulus are having a close encounter, less than 1o apart. Together they join with Saturn to form a pretty isosceles triangle that you won't want to miss: sky map.
photos: from Tamas Ladanyi of Lake Balaton, Hungary; from Doug Zubenel of Linn County, Kansas
NOCTILUCENT COMPANIONS: The Pleiades. A slender crescent Moon. Electric-blue noctilucent clouds (NLCs). Add them all together and you get ... Monday in England. This morning just before the sun came up over the British Isles, a wispy bank of noctilucent clouds joined the Moon and Pleiades in the pre-dawn sky: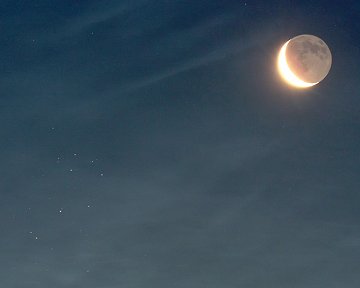 "What a sight!" says Pete Lawrence who took the picture, above, from the beach at Selsey in West Sussex. A panoramic shot "conveys the scene quite well with noctilucent fingers stretching out of the twilight arc." Noctilucent cloud activity remains high; readers, be alert for NLCs and their companions.
more images: from Martin Stirland of Winterton On Sea Norfolk England; from Laurent Laveder of Quimper, Bretagne, France; from Thad V'Soske of Grand Valley, Colorado; from Mark E. Peter south of Flint Ridge, Ohio; from David Arditti of Edgware, Middlesex, UK
LAVENDER SUNS: California is on fire. Hundreds of wildfires in the northern half of the state are filling the air with smoke and filling the sky with ... lavender suns? Christopher Calubaquib saw one on June 26th when he looked through the haze over El Sobrante, California: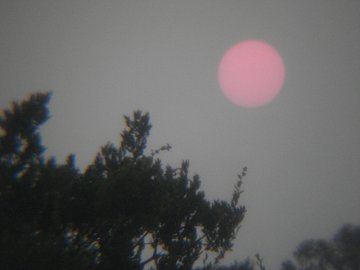 "Because of the smoke, the sun was not very bright, and I didn't need to use a filter to take the picture," says Calubaquib. In other words, the colors are genuine. A day later, another lavender sun appeared over Arcata, California: "This photo was not processed or retouched; it's how the sun really looked," says photographer Mike Kelly.
What makes the sun lavender? It happens when the air is filled with particles measuring about 1 micron (10-6 m) across, a little larger than the wavelength of red light. Micron-sized particles scatter red light strongly, while letting shades of blue pass through. The mix of ash over El Sobrante produced a lavender hue, reminiscent of the great Alberta muskeg fires of September 1950. Believe it or not, the same physics can turn the Moon blue, but that is another story.
Is the smoke wafting through your hometown this week? Be alert for the lavender sun.
more images: from Raymond Rochelle of Chico, California; from Andrew Kirk of Bishop, California;
---
June 2008 Aurora Gallery
[Aurora Alerts] [Night-sky Cameras]