| | | |
| --- | --- | --- |
| AURORA ALERTS: Did you miss the Northern Lights of June 25th? Next time get a wake-up call from Space Weather PHONE. | | |
SPACE STATION DAWN: This week, the International Space Station is making a series of morning flybys over Europe and North America. Seeing a brilliant spacecraft glide among the stars at dawn is a very nice way to start the day. Check the Simple Flybys page to find out when to look.
CELESTIAL TRIANGLE: Tonight, after sunset, go outside and look above the treetops. Saturn, Mars and the 1st-magnitude star Regulus have gathered together in triangular form. Jared Holloway sends this picture from Thomaston, Georgia: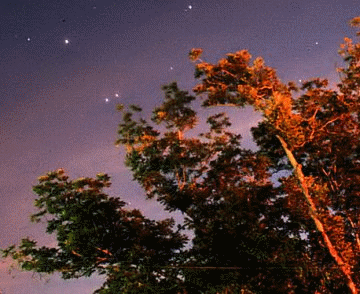 Fix this location in your mind. A few days from now, in the same spot, Mars will converge on Saturn and the crescent Moon will join them both for a nicely eye-catching show. Stay tuned for details--and meanwhile, watch the triangle. [sky map]
more images: from Tamas Ladanyi of Veszprem, Hungary; from John Hacker of Carl Junction, Missouri; from Doug Zubenel of Linn County, Kansas
NEW EARTH: Last week, photographer Mila Zinkova hiked to the Mammoth hot springs at Yellowstone National Park. "It was a cool morning," she says. "The steam from the springs slowly traveled up and the shadows of the dead trees moved with it. I felt like I was traveling back in time when Earth was still new and hot."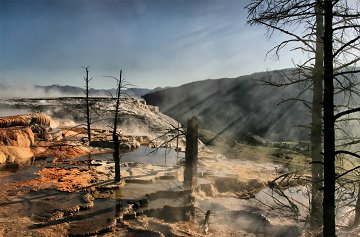 Indeed, the Earth in this picture is new and hot. The terraces are made of calcium carbonates deposited daily by superheated water bubbling up from Yellowstone's subterranean magma system. Primitive microorganisms that thrive in sulfurous, scalding water give the terraces their lovely orange, pink, yellow and green colors. These microbes, called archaebacteria, are thought to be relatives of the earliest life on Earth.
The moody shadows, by the way, are called "crepuscular rays" and they can be seen anywhere: Look west at sunset for black shafts lancing out of jagged clouds or look at the sun through a thicket of leaves. Careful, though, you may find yourself transported to a distant time. Four billion years is a long way away....
---
June 2008 Aurora Gallery
[Aurora Alerts] [Night-sky Cameras]