| | | |
| --- | --- | --- |
| AURORA ALERTS: Did you miss the Northern Lights of June 25th? Next time get a wake-up call from Space Weather PHONE. | | |
PLANETS ALIGN FOR THE 4th OF JULY: Look beyond the fireworks this weekend. A trio of worlds is converging for a pretty sunset sky show: full story. [Sky maps: July 4, 5, 6] [Photos: #1, #2]
EARTH AT APHELION: Today, you are far from the sun. Earth's orbit around the sun is not a perfect circle, it's an ellipse, and on July 4th, Earth is at the most distant end of the curve. Astronomers call this "aphelion." When we are at aphelion, the sun appears smaller in the sky (by 1.7%) and global solar heating is actually a little less (by 3.5%) than the yearly average. This provides scant relief from northern summer heat, however; click here for reasons why.
photos: from Pete Glastonbury of Avebury, Wiltshire, UK; from Alex Con of Bucharest, Romania; from Enrique Luque Cervigón of Alcalá de Henares, Madrid, Spain.
WEIRD SUNSET: Even at a distance, the sun can amaze. Consider this: "On June 29th, the sun got below the marine layer here in La Jolla, California, and something weird happened," reports Steve Shuey. "I took this picture using my Canon 5D."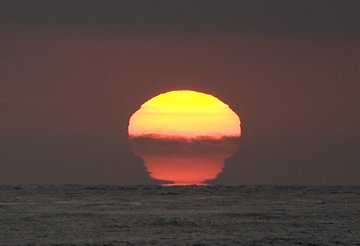 Photo details: Canon 5D, 420 mm (300+1.4 tele-converter), f5.6, 1/400 s, ISO 400.
Atmospheric optics expert Les Cowley explains what happened: "The sun's light is slanting through layers of air at different temperature and being split, bent upwards and downwards to make this weird apparition. A multiple mirage has chopped the sun into at least eight slices. The lowest slice on the sea is actually rising upwards from the waves! The apparently choppy sea is also part of the mirage. Smoke from the Californian fires trapped in the temperature inversion layers has darkened the mirage center."
GRAB THAT ROCK: Put on your 3D glasses and reach out. Can you grab the rock?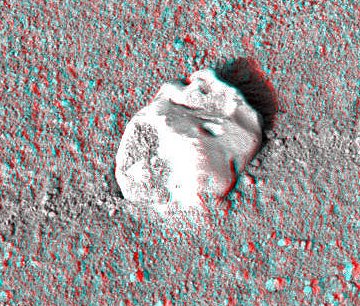 It seems so near, but this rock is actually 319 million kilometers away at the feet of the Phoenix Mars lander. Spaceweather reader Stuart Atkinson of Kendal, UK, created the anaglyph by combining right- and left-eye images from Phoenix's stereo camera. "The rock seems to be riddled with holes," he says. "Fascinating!"
Behold the complete scene. To the right is one of the trenches Phoenix has been digging. Next week, after a brief 4th of July holiday, mission scientists will command Phoenix to begin chemical analyses of icy soil scraped from the Snow White trench. This should reveal the sample's salt and mineral content, whether it contains nutrients friendly to life, and something of the ice's history. Was it once a nutrient-rich fluid? Stay tuned for updates.
---
2008 Noctilucent Photo Gallery
[NLC Tutorial] [Night-sky Cameras]