The space shuttle is in orbit. We can call you when it's about to fly over your hometown: Spaceweather PHONE.
ZUBENELGENUBI & JUPITER: Stick out your little finger and hold it at arm's length. Behold the pinky-tip. That's how far apart Jupiter and Zubenelgenubi are tonight.
Jupiter, as everyone knows, is a giant planet with moons. Less well-known Zubenelgenubi is a pretty double star. John Stetson captured them together through his telescope on Sept. 11th: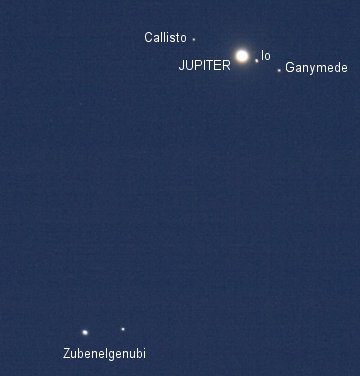 Tonight the pair are even closer (0.5 degrees). Go outside after sunset and look southwest: sky map. There's Jupiter, the brightest "star" in the sky, and just below it, Zubenelgenubi. You can see them with your naked eye--no telescope required.
And if the view doesn't make you smile, try this: Say "zoo-BEN-al-je-NEW-bee." Much better!
SUNSPOT 909: To the human eye, the tiny, scattered spots of sunspot group 909 are hardly impressive. But when viewed through a telescope tuned to the red glow of solar hydrogen--wow! "The area is so active with plage that the spots are literally drowning in it," says Camaran Ashraf of Claremont, California. He took this picture yesterday: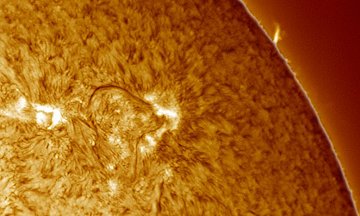 The seething magnetic froth (that's what plage is) does not signal an impending flare, just "a unique visual and photographic opportunity." If you have a solar telescope, take a look!
more images: from Peter Hoebel of Erlangen, Germany; from Philippe Vercoutter of Ypres, Belgium; from Andreas Murner of Lake Chiemsee, Bavaria, Germany.