Where's Saturn? Is that a UFO--or the ISS? What's the name of that star? Get the answers from mySKY--a fun new astronomy helper from Meade. .

FASTEN YOUR SEAT BELTS: NASA's adventurous Discovery program--responsible for the first rover on another planet, the first landing on an asteroid, the first samples of a comet returned to Earth and much more--is about to get even better: full story.

NEW MEXICO FIREBALL: On Sept 13th at approximately 3 o'clock in the morning MDT, an extremely bright fireball streaked over New Mexico, "It was terrifying," says eyewitness Susan K. Burgess. "I was stargazing outside my house near Santa Fe when the landscape started becoming very bright, as if a brilliant full moon was quickly rising from the southwest. The fireball itself [slowly moved] over the house and disintegrated with a great deal of scatter in the northwest sky."

At the Sandia National Labs in Albuquerque, a Sentinel all-sky video camera captured the fireball in flight: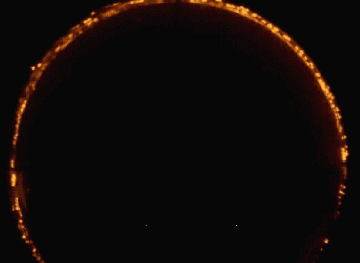 Click to view the complete movie.
Based on data from the video, the visual magnitude of the fireball was -14.6, about four times brighter than a full Moon!
"The fireball was a pure emerald green, uncomfortably bright to look at," adds Harald Edens located in the Magdalena Mountains west of Socorro, NM. "The object was disintegrating when I saw it, with pieces parallel-tracking and trailing the fireball. Those smaller pieces had all different colors--most notably red. I think it has been a piece of space junk."
Amateur radio astronomer Thomas Ashcraft not only photographed the fireball, but also recorded echos of a distant radio station bouncing off the meteor's ionized trail: movie. "This fireball turned night into day!" he says.
RAINBOW UNDERFOOT: "Last week, we took a helicopter ride to see lava flowing from the Kilauea volcano on the Big Island of Hawaii," says photographer Mila Zinkova. "But before we reached the lava we saw a beautiful rainbow. It seemed to me that it made a complete circle beneath the heliocopter." (continued below)
Indeed, with the sun overhead and no ground to interrrupt the 'bow below, a complete 360-degree rainbow was on display underneath the chopper. If only Mila had had her fisheye lens!
"Hawaii with its fine rain showers mixed with brilliant sun is ideal for rainbows," notes atmospheric optics expert Les Cowley. "The only problem is that the sun is often too high! Rainbows are always directly opposite the sun and when the is high in the sky the rainbow top dips below the horizon where you cannot see it. The solution? Climb a mountain or hire a helicopter for a better view."
Cowley adds that if you're not in Hawaii, "a lawn sprinkler does a good job, too"
---
September 2007 Aurora Gallery
[August 2007 Aurora Gallery] [Aurora Alerts]